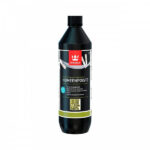 Mold removal – Homeenpoisto (Tikkurila), 1L
For removing mold and aglae from painted and unpainted wood, rendered and concrete surfaces before new- or maintenance painting, and from concrete tile and fiber cement surfaces before maintenance painting. No maintenance painting is needed after using Homeenpoisto on already painted surfaces if the surfaces are in good condition.
Mixing components
Dilute Mould Removal with water, mixing ratio 1:3.
Surface preparation
Protect glass, aluminum and other similar surfaces that could be damaged by the detergent.
Application
Dilute Tikkurila Homeenpoisto with water to a ratio of 1:3. Apply the diluted mixture on the moldy facade from the bottom up with a
sponge, soft brush or, for large areas, a garden hose. Cleaning from the top down can leave streaks on the facade. Let the solution
act for about 30 minutes. You can leave the solution on for longer if the substrate is very moldy. Use a brush if necessary. After
the treatment, rinse the surfaces carefully with clean water from the top down, e.g. with a hose.
Cleaning of tools
Clean tools with water.
Environmental protection and waste disposal
Recycle empty, dry cans or dispose them of in accordance with local regulations. Do not empty undiluted solution into drains, water
systems and soil. Destroy the undiluted liquid waste according to the local regulations for hazardous waste.
Health and Safety
Contains: alkyl(C12-16)dimethylbenzylammonium chloride. Danger. Causes severe skin burns and eye damage. Harmful to
aquatic life with long lasting effects. If medical advice is needed, have product container or label at hand. Keep out of reach of
children. Avoid breathing mist/vapors/spray. Use only outdoors or in a well-ventilated area. Avoid release to the environment. Wear
protective gloves/clothing and eye/face protection. Contains < 5%: BENZALKONIUM CHLORIDE, cationic surfactants, < 5 % nonionic surfactants. List of ingredients: Aqua, PEG-5-Laureth-5, benzalkonium chloride, tetrasodium glutamate diacetate, sodium
metasilicate 5-hydrate (https://ec.europa.eu/growth/tools-databases/cosing/).