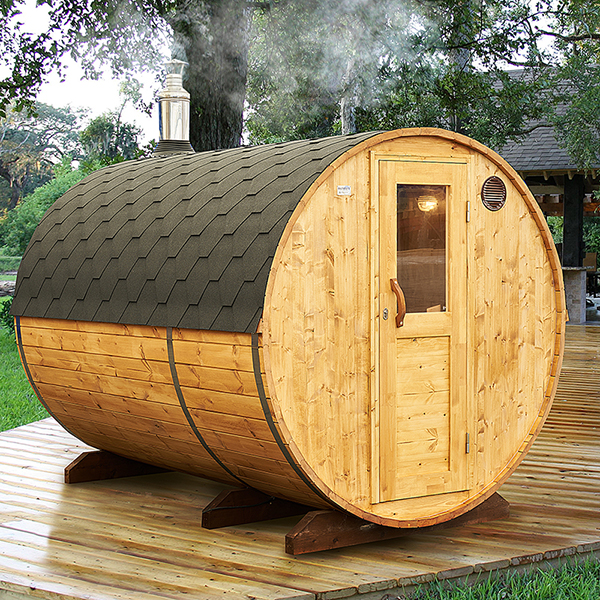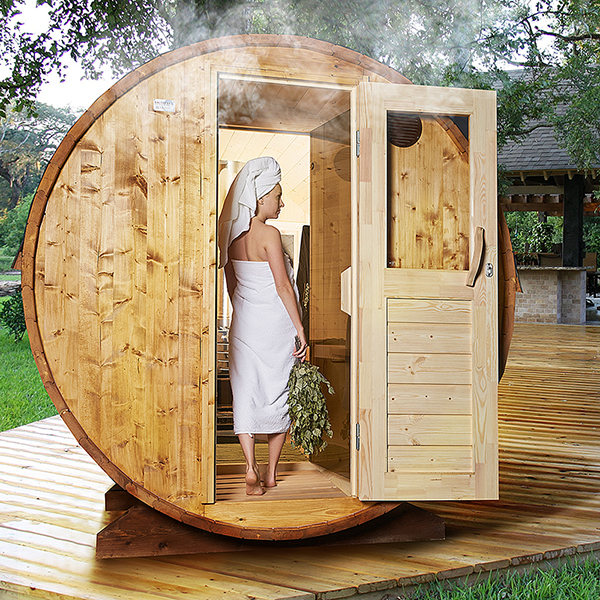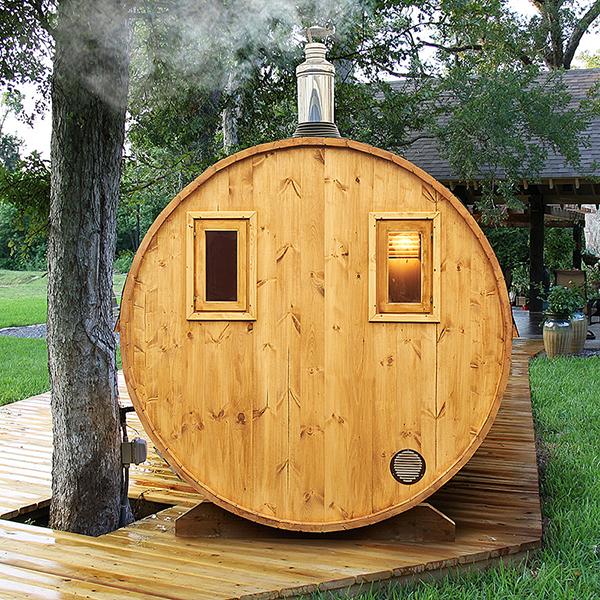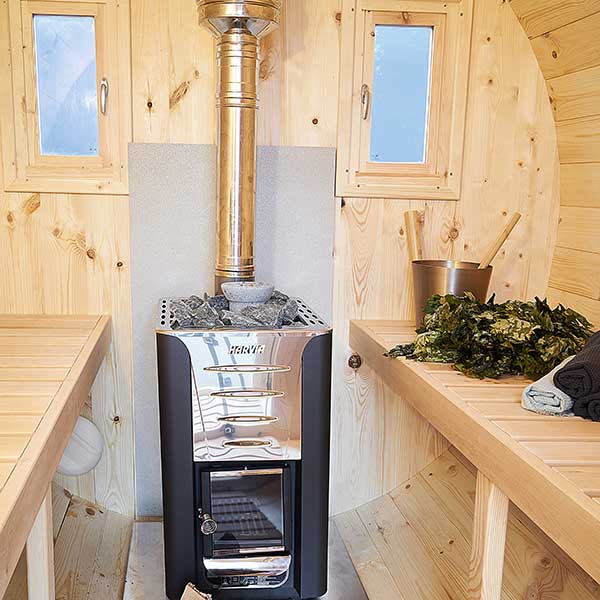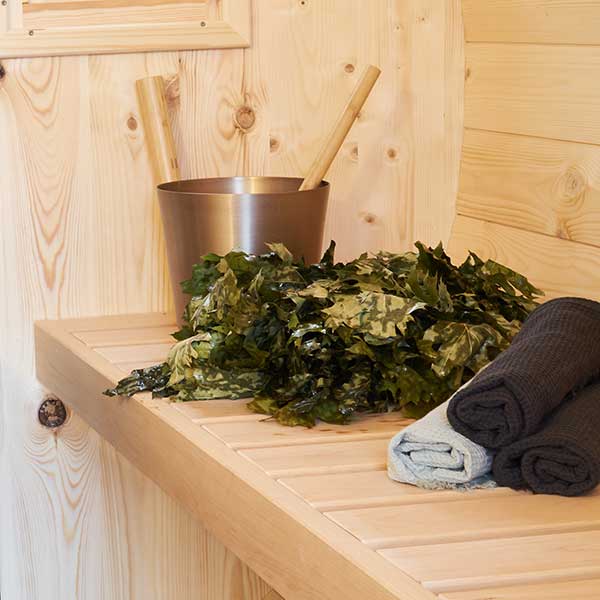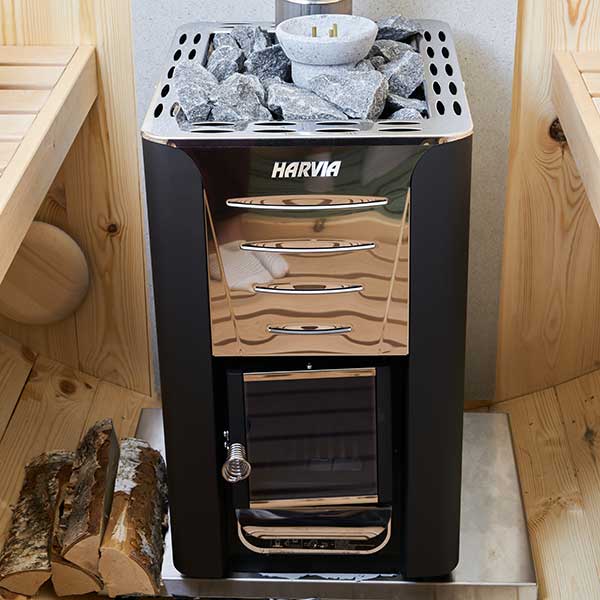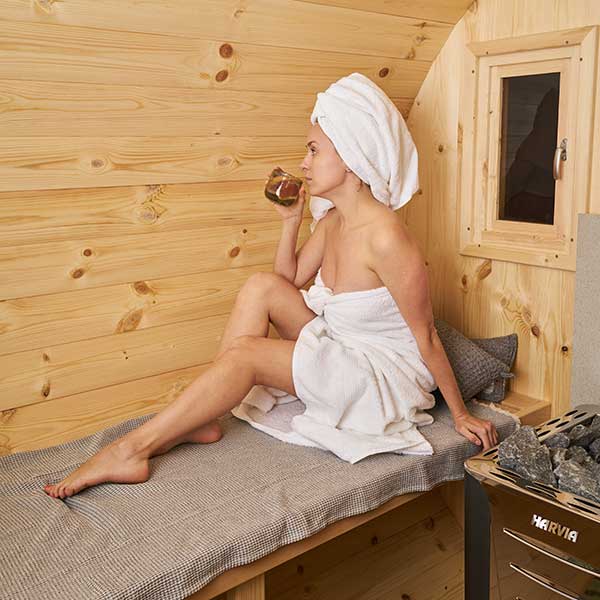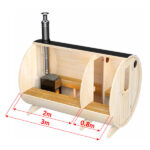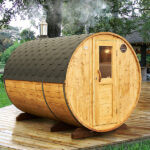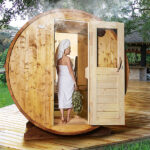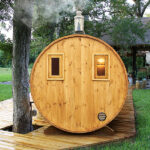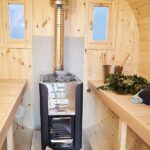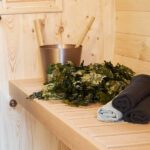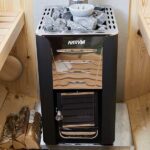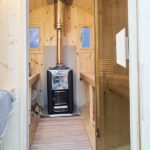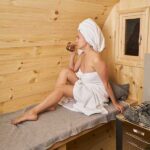 3m for 4 persons Outdoor Sauna with Dressing Room (S3P)
Practical and comfortable Outdoor Sauna having 2 rooms is an ideal option for a family sauna. This Outdoor Sauna with dressing room can be complemented by both a wood-burning stove Harvia and Elektro oven. The dressing room has some benches where you can relax after leaving the steam room without going outside, and store bath accessories. Outdoor Sauna is available in both assembled and non-assembled versions, also, it can be made from spruce or thermowood, in diameters of 2 m and 2.2 m. . Also, we recommend you to complement this model with other useful accessories that you can find in the Sauna accessories section.
By buying this practical Outside sauna, you will get comfort and convenience for a reasonable price and a perfect gift for the health of your family.
Basic Set Includes:
Spruce / Thermowood barrel (thickness 40 mm, Ø2/Ø2,2 m, h = 2,1/2,3 m – without chimney)
Benches from Thermowood
Brown Tempered Glass Door
Bitumen Shingle Roof
Sauna Stones (with stove only)
Stainless steel hoops – 3 psc.
Accessories
Parameters
Description
Delivery
Diameter – Ø2; Ø2,2 m
Weight (kg) – 680
Thickness – 40 mm
Capacity – 4 persons
Glass door size: 1710 mm x 707 mm for diameter 2 m; 1890 mm x 707 mm for diameter 2,2
Wooden door size: 1710 mm x 707 mm for diameter 2 m; 1890 mm x 707 mm for diameter 2,2
Size:
Assembled: 
Length: 3 m; 3,4 m (with canopy)
Width: 2 m for diameter – 2 m; 2,2 m for diameter – 2,2 m
Height: 2,1 m for diameter – 2 m; 2,3 m for diameter – 2,2 m (without Chimney)
Flat-Pack: 
Length: 3 m; 3,4 m (with canopy)
Width: 0,8 m
Height: 1,5 m for sauna with electric stove; 1,8 m for sauna with wood-fired stove
Feet arrangement for sauna:
Description
Barrel sauna S3P is made from softwood with a wall thickness of 40 mm at least.
The construction of S3P model is functionally divided into two rooms:
spacious sauna with a tempered glass door
There are two rectangular thermowood benches inside Barrel sauna. The length of benches is 2 meters, so they can comfortably accommodate 2 adults lying on them. If you like to visit a sauna with a large company, we also recommend buying backrests made from softwood, they will provide additional comfort in a sitting position.
The heater is supposed to be placed on the end wall opposite the entrance. Baltresto Online Shop offers you an electrical or wood-fired heater from the reliable Finnish manufacturer Harvia, whose popularity is due to its excellent quality and low prices. Unlike shops, the kit with the heater provides everything you need: a heating element, 20 kg of stones, pipes, and air ducts. When buying a wood-fired hater, we recommend you to buy protective wall-mounted metal plates (fur coat).
small dressing room with a natural wood front door
The presence of a dressing room allows you to comfortably use Barrel sauna in any weather: your belongings will not get wet in the rain, and you can comfortably relax in a warm room before another session of SPA-procedures. Thanks to the smart ventilation system, the temperature in the dressing room is lower than that in the steam room. The entrance door is wooden with a preset lock. The dressing room also helps prevent heat losses from the steam room.
The diameter of the Barrel sauna is determined by its height that is usually 2 or 2.2 m. It is at this size of the ceiling that a person feels comfortable. The roof of Barrel sauna is covered with bitumen shingles and it protects the sauna body from rain and sun well.
Outdoor sauna S3P has a low weight, so it can be installed without any foundation on the terrace or the riverbank, and it can be also used as a mobile sauna.
When you buy Barrel sauna, you can complement the basic kit with various accessories that will make your sauna comfortable, good look, and safe!
Shipping cost is not included.
The shipping cost depends on the total weight of your order and your destination.
For more information, you can visit our Delivery Page