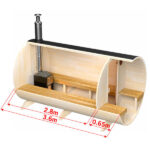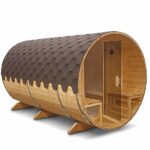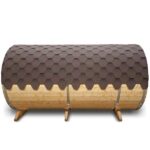 3.6m for 6 persons Outdoor Sauna with Outside Seats (S3V)
3.6 m Outside sauna is optimal for big families of 6-8 persons. It consists of a cozy steam room and a small outside recreation zone in the form of outer seats. It is available in both assembled and non-assembled versions, it can be made from spruce or thermowood, in diameters of 2 m and 2.2 m. Buying Barrel sauna with wood-burning stove Harvia, you will get heating within one hour if you use an electric stove heating takes up to 2 hours.
Also, we recommend you to complement your sauna with a panoramic window, decorative wooden ring and other accessories that improve its aesthetic look, functionality, and identity.
Buying this TOP model of Outside sauna, you will get an excellent balance of price-quality-functionality and a perfect gift for the health of your family.
Basic Set Includes:
Spruce / Thermowood barrel (thickness 40 mm, Ø2/Ø2,2 m, h = 2,1/2,3 m – without chimney)
Benches from Thermowood
Brown Tempered Glass Door
Bitumen Shingle Roof
Sauna Stones (with stove only)
Stainless steel hoops – 4 psc.
Accessories
Gallery
Parameters
Description
Delivery
Diameter – Ø2; Ø2,2 m
Weight (kg) – 675
Thickness – 40 mm
Capacity – 6 persons
Glass door size: 1710 mm x 707 mm for diameter 2 m; 1890 mm x 707 mm for diameter 2,2
Wooden door size: 1710 mm x 707 mm for diameter 2 m; 1890 mm x 707 mm for diameter 2,2
Size:
Assembled: 
Length: 3,6 m
Width: 2 m for diameter – 2 m; 2,2 m for diameter – 2,2 m
Height: 2,1 m for diameter – 2 m; 2,3 m for diameter – 2,2 m (without Chimney)
Flat-Pack: 
Length: 3,6 m
Width: 0,8 m
Height: 1,5 m for sauna with electric stove; 1,8 m for sauna with wood-fired stove
Feet arrangement for sauna:
Description
One more option to extend an ordinary sauna and make it more interesting and functional is to furnish it with sheltered outside seats. One can use them for cooling down between separate sauna sessions or for relaxation after finishing his sauna ritual. All the saunas are handcrafted by the means of old traditional cooperage technology. The wooden planks are carefully selected and then tightened with stainless steel hoops, the whole construction is treated with natural tar oil, making our saunas purely eco-friendly. We use only high-quality Spruce and thermally modified wood for construction of our saunas . Spruce has very good thermal conductivity, it is light but still very durable, it has pleasant light colour and good scent. Thermowood makes sauna resistant to shrinkage caused by lack of humidity and extreme temperatures. It eliminates the chance of deformation in case of multiple dislocations of a sauna. However, separate parts of sauna, such as floor and benches, are made of thermowood as it does not get too hot and does not exude resin.
Portability is a significant advantage of a barrel sauna over an ordinary one. In case you decide to move to another district, city or even country, you will not be forced to leave your favourite sauna. Just place your sauna on a cargo, and take it with you! If you feel that you deserve absolute comfort and want someone to care about every little detail, purchase one of our preassembled saunas and we will deliver it right to your house! All you have to do in this case is place the stove and enjoy your new sauna!
Shipping cost is not included.
The shipping cost depends on the total weight of your order and your destination.
For more information, you can visit our Delivery Page