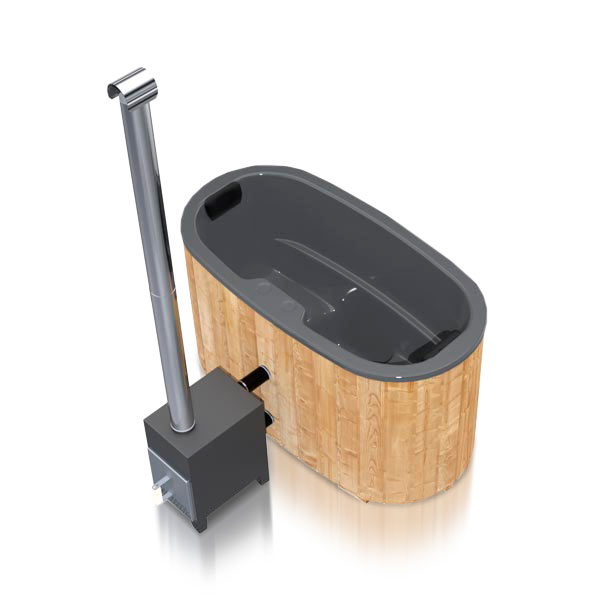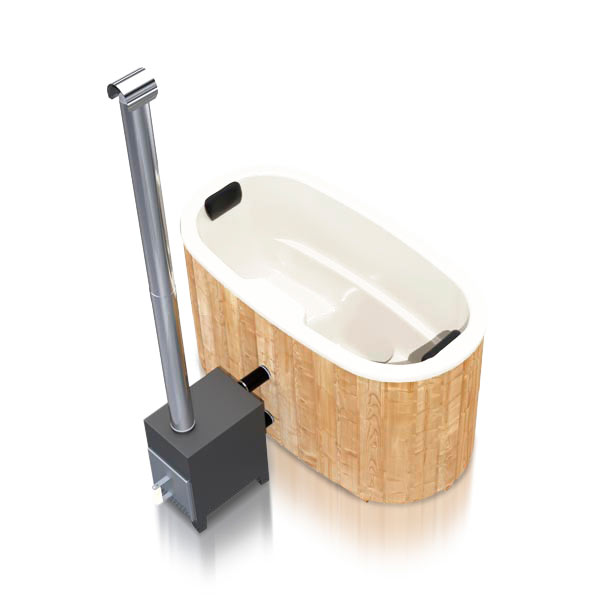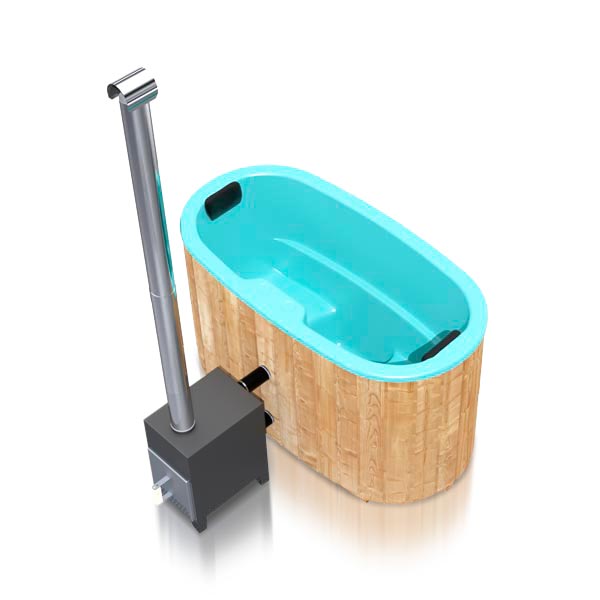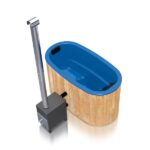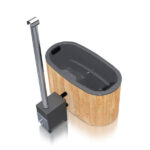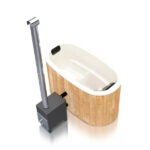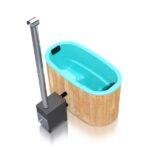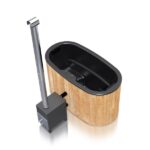 For 2 persons Wood-fired Hot Tub from Fiberglass
The smallest and most exquisite model of Oval Hot Tub allows you to save space at your site and at the same time get maximum joy and comfort when using it. It is equipped with 2 soft headrests and seats for your comfort. The most economical 800 liter volume of the fiberglass tank ensures fast water heating. The outside coating of Wooden Hot Tub is made of thermowood: a special durable, ecological and modern material.
This is the most economical and cheapest Wood burning Hot Tub for the garden among Fiberglass Hot Tubs, when you buy it you will surely delight yourself and your partner.
Basic Set Includes:
Fiberglass bath planked with 18 mm thermowood
Waterproof plywood flooring
2 headrests
Drain
Accessories
Parameters
Description
Delivery
Parameters:
Size – 1.85 x 0.95m
Volume – 800 l
Weight (kg) – 120
Capacity – 2 persons
Height – 1.1 m
Depth – 0.96 m
Height of seats  – 280 mm
Width of seats – 480 mm
Thermo-wood outside thickness – 18 mm
Waterproof plywood flooring – 9 mm
Description
The main benefits of the fiberglass baths:
Sustainability. Baths are produced from environmentally friendly materials that are designed specifically for swimming pools, which means that this plastic is absolutely harmless to human health. Both children and adults can enjoy bathing absolutely safely!
Simplicity. Maintenance of the simple wooden bath is much harder, due to the necessity to wash it more thoroughly after each use, in order to preserve it in a good condition. Regarding the plastic bath, you only need to rinse it thoroughly before and after every use. From time to time sponge the bath with liquid washing agents.
Savings. Wooden hot tub with a plastic bath is definitely more durable than the one without it. Therefore, the purchase of a wooden hot tub with plastic bath can be with confidence called a good investment!
Aesthetics. One can choose practically any colour of a plastic bath and complement it with colourful LED -lights and hydro massage system. Such design decision will allow you to combine hydrotherapy with colour therapy, and significantly improve the quality of an ordinary bathing.
Diversity. Despite choosing from various shapes, designs and extra-equipment of our plastic baths, which gives full play to your imagination, you can also diversify your bathing with adding into water different herbs, essential oils, or pouring herbal decoctions. This will significantly improve water quality, exert healing influence on your body, and provide an opportunity to enjoy aromatherapy. For example, Melissa will help to relax and improve metabolism, while Lavender reduce anxiety and relieve headache. Try a new aroma with each bathing!
Shipping cost is not included.
The shipping cost depends on the total weight of your order and your destination.
For more information, you can visit our Delivery Page