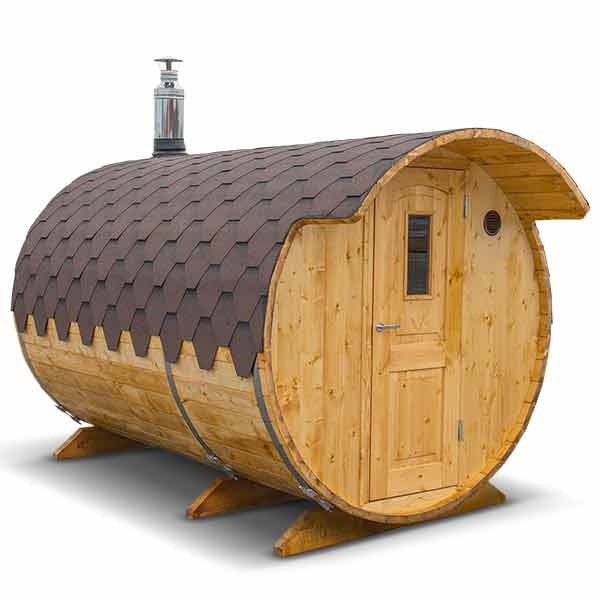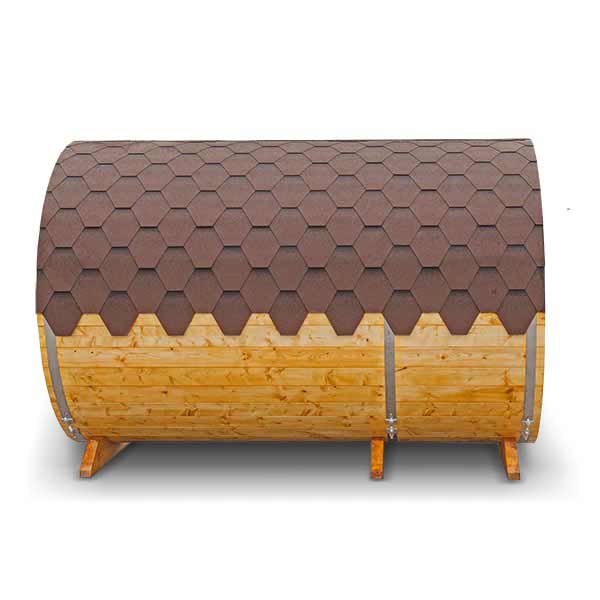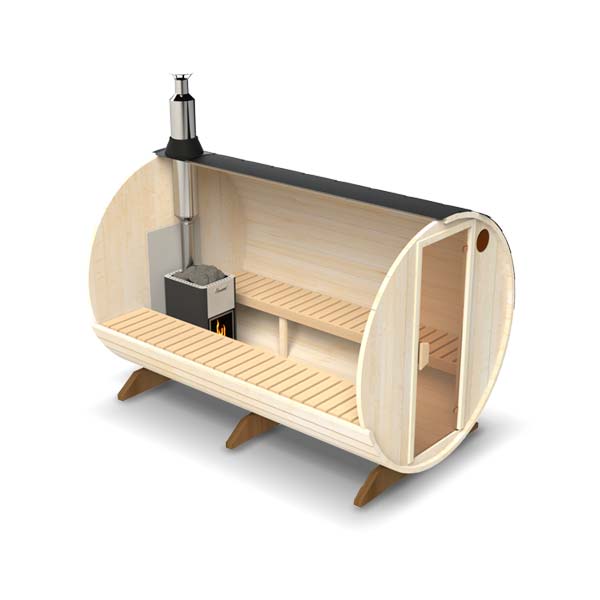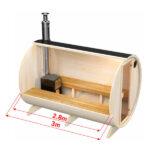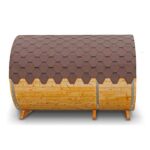 3m for 6 persons Outdoor Sauna (S3)
The most spacious Outdoor sauna cabin having only a steam room is optimal for a big family or sauna fans and their close friends. Such an Outdoor sauna is delivered in both assembled and kit versions, it can be made from spruce or thermowood. Buying Garden sauna cabin with stove, you will get 20 kg of sauna-stones. This Outdoor wood-burning sauna is also available with 6 or 8 kW elektro oven, in diameters of 2 m and 2.2 m. We recommend you to complement your sauna with a panorama window, decorative wooden ring and other useful accessories that will improve its look and raise our mood.
Choosing this Garden sauna, you will get excellent quality for a reasonable price.
Basic Set Includes:
Spruce / Thermowood barrel (thickness 40 mm, Ø2/Ø2,2 m, h = 2,1/2,3 m – without chimney)
Benches from Thermowood
Brown Tempered Glass Door
Bitumen Shingle Roof
Sauna Stones (with stove only)
Stainless steel hoops – 3 psc.
Accessories
Parameters
Description
Delivery
Diameter – Ø2; Ø2,2 m
Weight (kg) – 650
Thickness – 40 mm
Capacity – 6 persons
Glass door size: 1710 mm x 707 mm for diameter 2 m; 1890 mm x 707 mm for diameter 2,2
Wooden door size: 1710 mm x 707 mm for diameter 2 m; 1890 mm x 707 mm for diameter 2,2
Size:
Assembled: 
Length: 3 m; 3,4 m (with canopy)
Width: 2 m for diameter – 2 m; 2,2 m for diameter – 2,2 m
Height: 2,1 m for diameter – 2 m; 2,3 m for diameter – 2,2 m (without Chimney)
Flat-Pack: 
Length: 3 m; 3,4 m (with canopy)
Width: 0,8 m
Height: 1,5 m for sauna with electric stove; 1,8 m for sauna with wood-fired stove
Feet arrangement for sauna:
Description
Barrel Sauna is a perfect solution for smaller yards. It is very compact and will not occupy a lot of space. In spite of its smaller dimensions,  barrel sauna does not yield to other sauna types in the quality of sauna sessions. Such a sauna will accommodate a small family or a company of close friends. Both two and four people will feel cozy and comfortable in an outdoor sauna. What is more, this fairy-tale wooden building with a colored conical roof will definitely beautify any landscape! We provide quality warranty to each of our sauna, so you can be sure that it will serve you for a long time without any problems.
Each barrel sauna can be equipped with windows, while the front glass door can be replaced with a wooden one. In order to make your rest even more convenient, we offer you different sauna accessories. The thermometer will help you control the temperature in the sauna and maintain it at an optimal level. Wooden bucket and scoop are indispensable sauna attributes—use them for pouring pure water or water with the addition of some herbal decoction on hot stones, in order to get steam. Try our brooms, in order to make your sauna rituals more diverse and healthy. For example, birch broom is good for muscle relaxation, it relieves pains and stiffness in muscles and joints, cleanses your skin, and raises the spirits. For those who prefer exotics, we suggest trying a bamboo broom. It is very helpful for problem skin, as it allows getting rid of black comedones and stretch marks. Regular massage with bamboo broom alleviates pains in the spine and joints. In addition, bamboo does not cause allergies, which makes it suitable for everyone. Finally, you should definitely take care of your head, support it with our comfortable headrest, and cover with a nice sauna hat. The hat will protect your head from overheating, which can be really dangerous, and it will help to prevent your hair from getting too dry.
Shipping cost is not included.
The shipping cost depends on the total weight of your order and your destination.
For more information, you can visit our Delivery Page