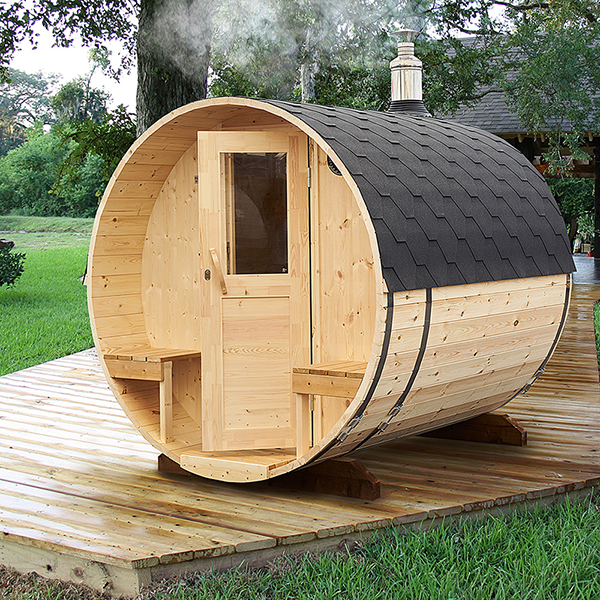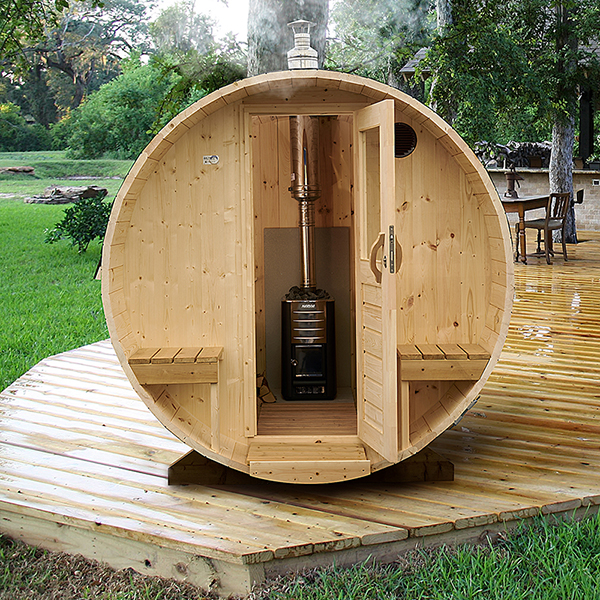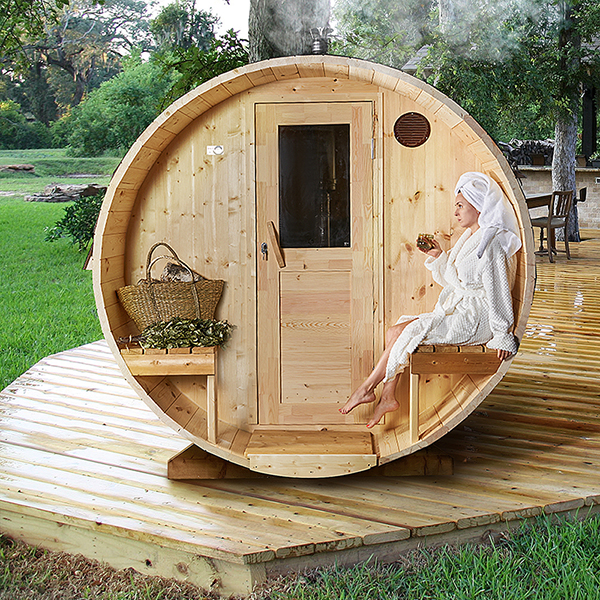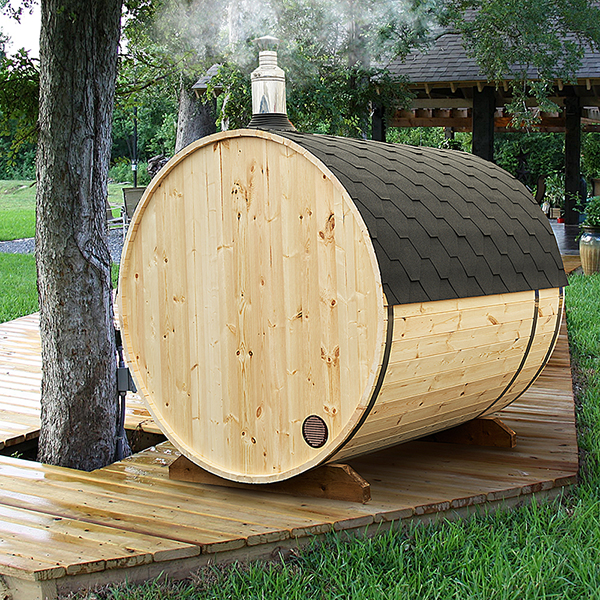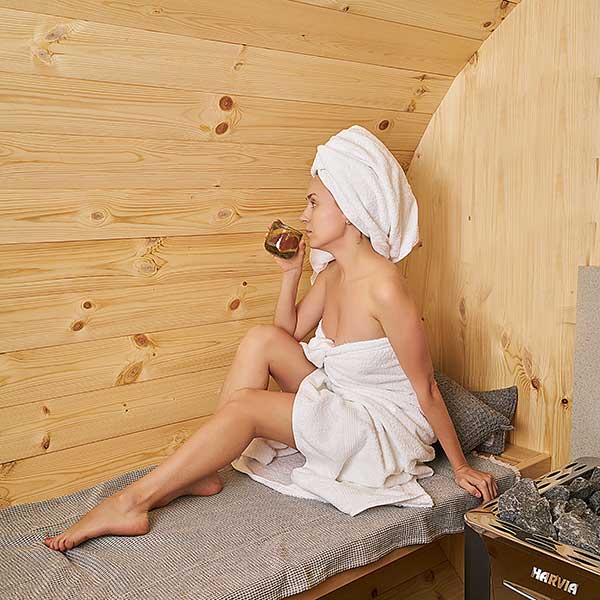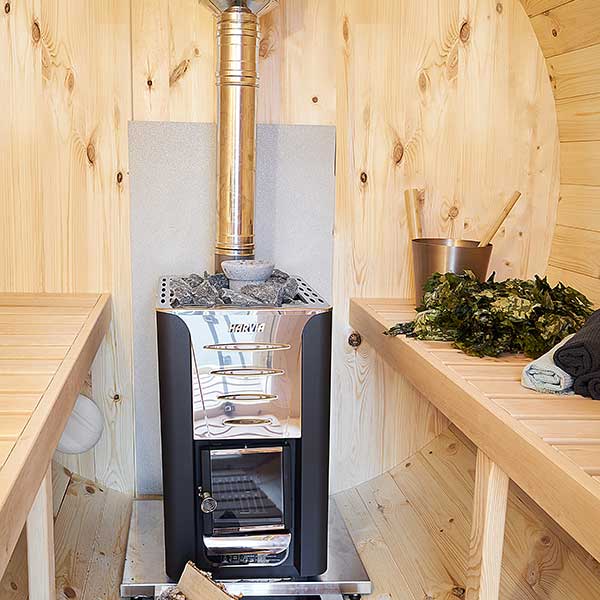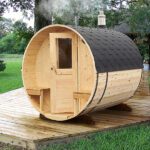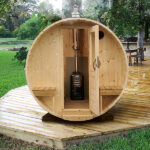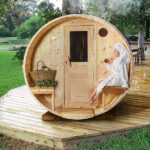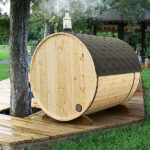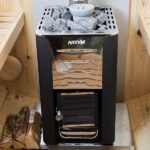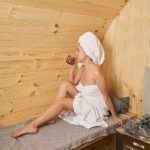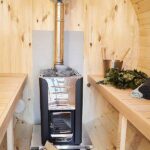 2.4m for 4 persons Outdoor Sauna with Outside Seats (S2V) – Special Offer
Buy this barrel sauna. Get Electric Stove Harvia Top Steel for free
The most popular Barrel Sauna in our assortment is available in diameters of 2 m and 2.2 m. It has a cozy steam room for 4-5 persons and a small recreation zone in the form of outer seats. Buying Outside sauna from Thermowood, you choose a more durable and decay-resistant product than the one just made from common spruce.
By improving and complementing this model with useful accessories, you will get a customized Outside sauna taking into account all your wishes.
Barrel Sauna is available in both assembled and non-assembled versions, with a wood-burning stove or electric stove.
By buying this TOP model of Outside sauna, you will get an excellent balance of price-quality-functionality and a perfect gift for your health.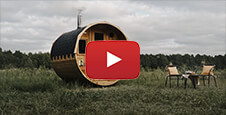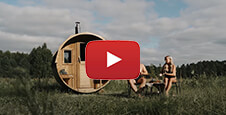 Basic Set Includes:
Spruce / Thermowood barrel (thickness 40 mm, Ø2; Ø2,2 m, h = 2,1/2,3 m – without chimney)
Benches from Thermowood
Brown Tempered Glass Door
Bitumen Shingle Roof
Sauna Stones (with stove only)
Stainless steel hoops – 3 psc.
Accessories
Parameters
Description
Delivery
Diameter – Ø2; Ø2,2 m
Weight (kg) – 630
Thickness – 40 mm
Capacity – 4 persons
Glass door size: 1710 mm x 707 mm for diameter 2 m; 1890 mm x 707 mm for diameter 2,2
Wooden door size: 1710 mm x 707 mm for diameter 2 m; 1890 mm x 707 mm for diameter 2,2
Size:
Assembled: 
Length: 2,4 m
Width: 2 m for diameter – 2m; 2,2 m for diameter – 2,2 m
Height: 2,1 m for diameter – 2m; 2,3 m for diameter – 2,2 m (without Chimney)
Flat-Pack: 
Length: 2,4 m
Width: 1,2 m
Height: 1,5 m for sauna with electric stove; 1,8 m for sauna with wood-fired stove
Feet arrangement for sauna:
Description
Barrel sauna S2V is the most popular model in the category "small Outdoor sauna"!
The length of the Barrel sauna S2V is just 2.5 m. This model is compact and simple in everyday usage, therefore, it ideally fits a small site or terrace.
This inexpensive Barrel sauna differs from other models by having a small terrace with seats where you can comfortably sit and refresh yourself after SPA-procedures. Sometimes seats can function as lockers because clothes can be carefully placed there before entering the steam room.
Barrel sauna S2V is notable for its simple layout and high functionality. Despite its small dimensions, the project features a large steam room with two shelves on each side. The length of each shelf is 1.85 meters. Thus, the steam room can simultaneously accommodate two to four adults. The stove is placed against the wall in front of the entrance so that no one has to pass it by. To comply with fire safety regulations, metal sheets made of fire-resistant material are additionally placed on the wall.
The unique shape of Barrel sauna minimizes heat losses, which reduces the load on the stove and ensures the economical use of fuel or electricity. Depending on your preferences, an electric or wood-burning stove can be installed. When you buy Outdoor sauna with a stove in Baltresto online store, you get 20 kg of stones as a gift!
The basic kit includes a tempered glass door with a magnetic lock. Despite its light darkening the door lets sunlight into the steam room and visually extends its space without blocking it.  Our customers often add a couple of small windows that both decorate the sauna and allow its easy ventilation after usage.
Like our other Outdoor saunas, Barrel sauna is made from quality wood with its wall thickness of 40 mm. The structure is joined by adjustable, robust stainless-steel hoops, and the careful installation on special supports ensures its natural ventilation from below.  Due to its low weight, Barrel sauna does not require any expensive foundation. This model can be placed on any base providing that its wooden bottom parts will not come into contact with soil. The best option is a concreted ground covered with gravel.
If you want to buy Barrel sauna assembled, you can order the oil treatment of external sauna parts at the factory. When you buy a Barrel sauna kit, it is necessary to treat all wooden details with the special protective dip before assembling, as it will be quite difficult to do it after assembling.
Shipping cost is not included.
The shipping cost depends on the total weight of your order and your destination.
For more information, you can visit our Delivery Page