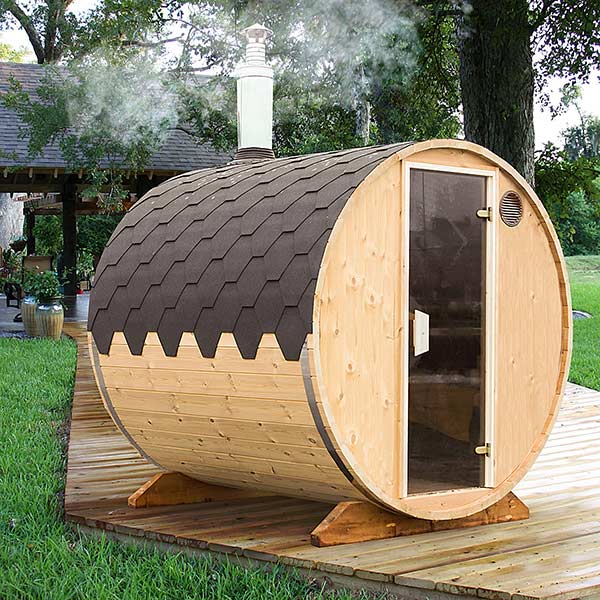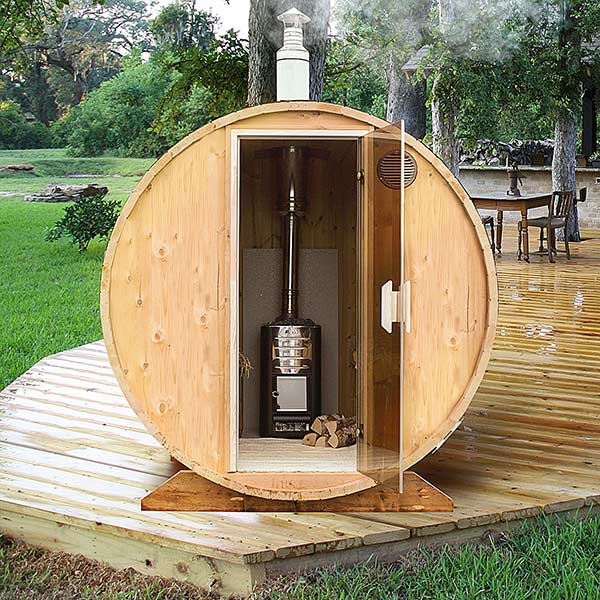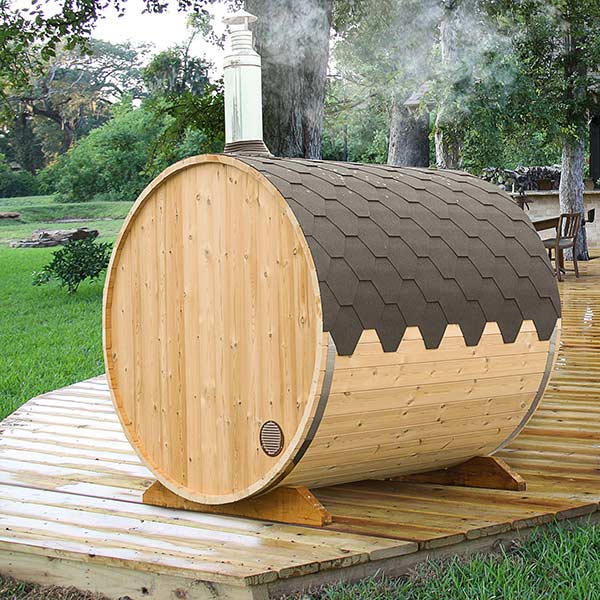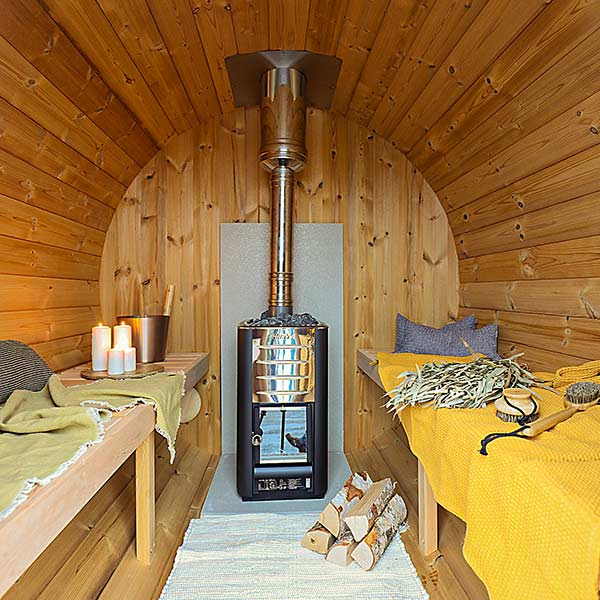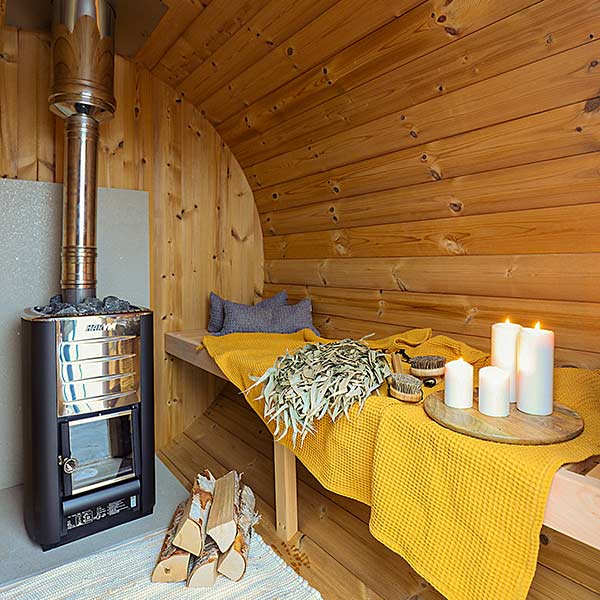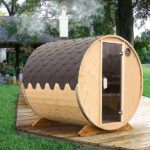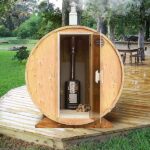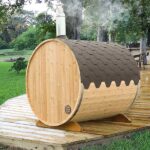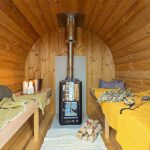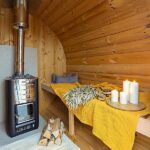 2-2.3m for 4 persons Outdoor Sauna
Buy this barrel sauna. Get Electric Stove Harvia Top Steel for free
Compact Barrel Sauna having only a steam room perfectly suits a family of 4-5 members and a small site. This Small Outside sauna can be complemented with both a wood-burning stove Harvia Pro 20 that allows heating within one hour and an elektro ofen that allows heating up to 2 hours. Barrel Sauna is delivered in both assembled and non-assembled versions, also, it can be made from spruce or thermowood, in diameters of 2 m and 2.2 m. When buying a model with Stove, you will get 20 kg of sauna stones. You can improve this model using other useful accessories which you can find in the section Sauna accessories. Buying this small Outside Sauna, you will get its compact location at your site, good price, and high European quality.
Basic Set Includes:
Spruce / Thermowood barrel (thickness 40 mm, Ø2/Ø2,2 m, h = 2,1/2,3 m – without chimney)

Benches from Thermowood

Brown Tempered Glass Door

Bitumen Shingle Roof

Sauna Stones (with stove only)

Stainless steel hoops – 2 psc.
Accessories
Parameters
Description
Delivery
Diameter – Ø2; Ø2,2 m
Weight (kg) – 600
Thickness – 40 mm
Capacity – 4 persons
Glass door size: 1710 mm x 707 mm for diameter 2 m; 1890 mm x 707 mm for diameter 2,2
Wooden door size: 1710 mm x 707 mm for diameter 2 m; 1890 mm x 707 mm for diameter 2,2
Size:
Assembled: 
Length: 2 m; 2,4 m (with canopy) / 2.3 m; 2.7m (with canopy)
Width: 2 m for diameter – 2 m; 2,2 m for diameter – 2,2 m
Height: 2,1 m for diameter – 2 m; 2,3 m for diameter – 2,2 m (without Chimney)
Flat-Pack: 
Length: 2 m; 2,4 m (with canopy)
Width: 1,2 m
Height: 1,5 m for sauna with electric stove; 1,8 m for sauna with wood-fired stove
Feet arrangement for sauna:
Description
Sauna sessions can be safely called the godsend of the humanity. They do not only provide us with an opportunity to relax and escape from daily routine, but also help to relieve symptoms of many diseases and strengthen our immune system. Sauna is good for prevention of cardiovascular and nervous system diseases; it speeds up metabolism, alleviates pains from rheumatism and arthritis, and promotes muscle relaxation and stress reduction. Despite the opportunity to choose from the wide range of sauna sizes and designs, one can easily customise his own sauna ritual by adding various scents, using different brooms, cosmetics for body treatment like scrubs and masks, and drinking herbal teas after the sauna. Undoubtedly, the scent of natural wood is one of the major advantages of sauna. The former can be complemented with the scent of spruce needles, Eucalyptus, Melissa, Camomile, honey, bread kvass or even beer. Just add some herbal decoction or sprinkle the mixture of liquids with water to the hot stones in a steam room!
Horizontal Barrel sauna has both highly functional and incredibly stylish design. An unusual ergonomic round shape facilitates more even heating of the air in a steam room and longer period of heat preservation. Thus, a sauna equipped with a wood-burning stove will reach appropriate temperature within 1 hour, while with an electric stove – 2 hours. Such a space of time is considered optimal for heating sauna, as too fast temperature rise can not only be harmful to your sauna but it may also be fire-hazardous. Depending on size of a particular sauna, it can accommodate from 4 to 8 people. In order to make your rest even more comfortable, we have extended our standard sauna and added to it a dressing room. Both sauna types can be decorated with a 0,4 m canopy. Standard sauna equipped with a canopy looks more cosy and complete.
Shipping cost is not included.
The shipping cost depends on the total weight of your order and your destination.
For more information, you can visit our Delivery Page