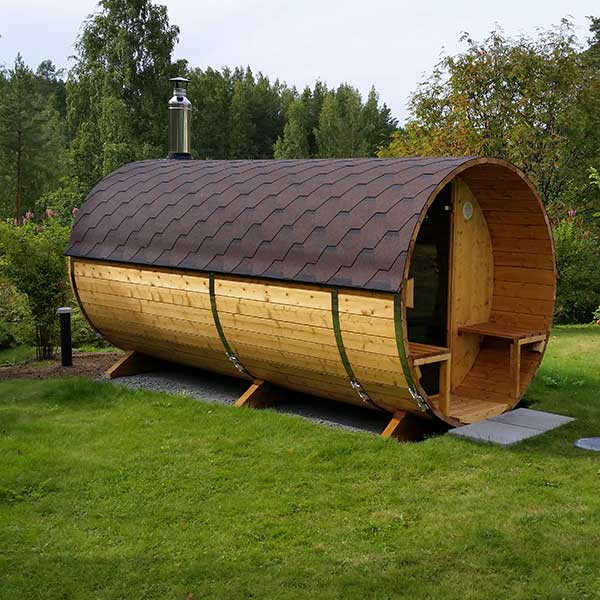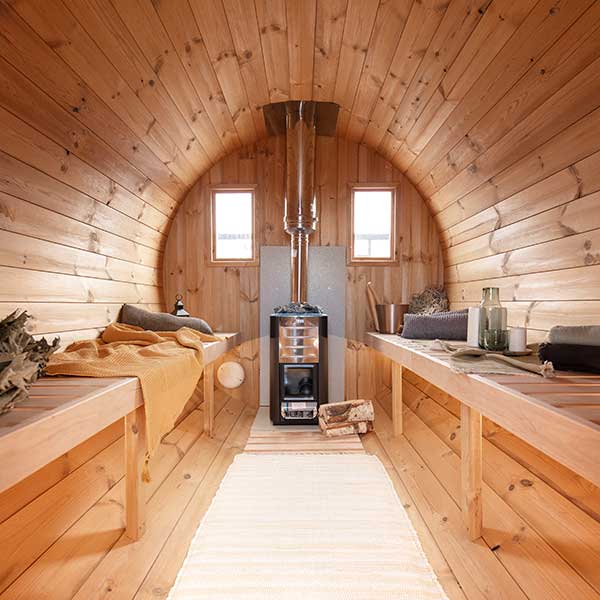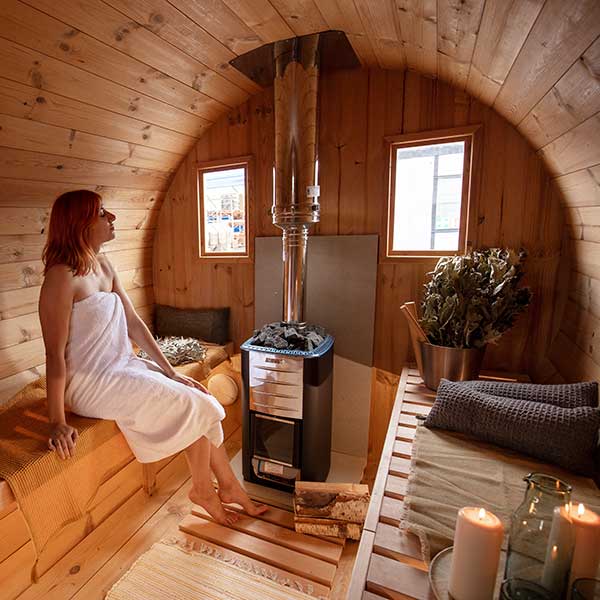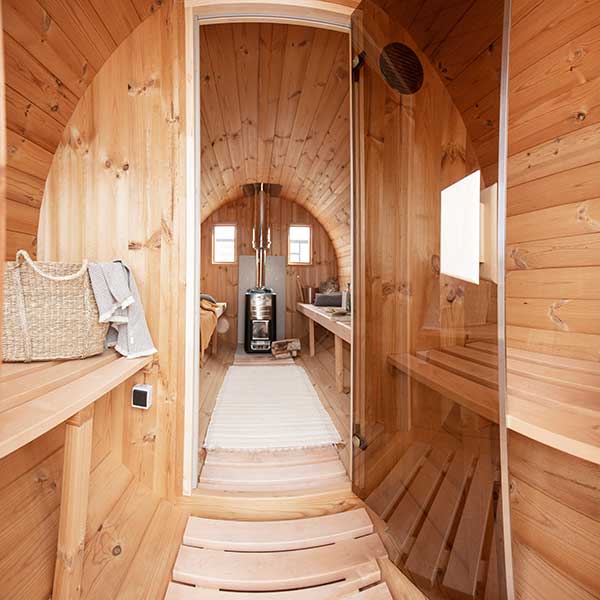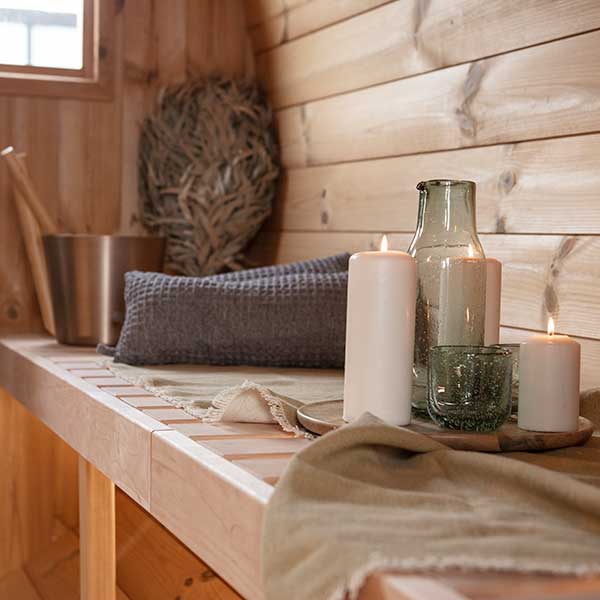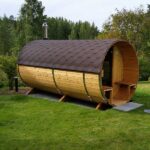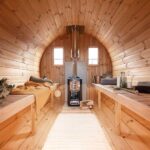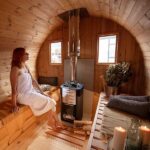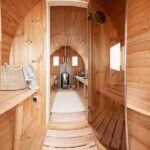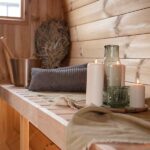 4m for 4 persons Outdoor Sauna with Dressing Room and Outside Seats (S4PV)
Buy this barrel sauna. Get Electric Stove Harvia Top Steel for free
4m Barrel sauna is the most TOP-rated and functional Fasssauna in our assortment, it is optimal for a family or a company of 4-6 persons. Apart from a steam room, this model has a dressing room where you can relax and change your clothes in bad weather, a small outside recreation zone in the form of outer seats. You can enjoy nature and breathe fresh air at this mini-terrace. Buying Outdoor sauna with stove Harvia, you get heating your steam room withing one hour, if you use an electric stove, heating will take up to 2 hours. It is available in both assembled and non-assembled versions, it can be made from spruce or thermowood, in diameters of 2 m and 2.2 m. By improving and complementing this with additional accessories, you will get a customized Garden sauna with dressing room taking into account all your wishes. Choosing this Barrel sauna, you will get excellent quality for a reasonable price.
Basic Set Includes:
Spruce / Thermowood barrel (thickness 40 mm, Ø2/Ø2,2 m, h = 2,1/2,3 m – without chimney)
Benches from Thermowood
Brown Tempered Glass Door
Bitumen Shingle Roof
Sauna Stones (with stove only)
Stainless steel hoops – 4 psc.
Accessories
Gallery
Parameters
Description
Delivery
Diameter – Ø2; Ø2,2 m
Weight (kg) – 720
Thickness – 40 mm
Capacity – 4 persons
Glass door size: 1710 mm x 707 mm for diameter 2 m; 1890 mm x 707 mm for diameter 2,2
Wooden door size: 1710 mm x 707 mm for diameter 2 m; 1890 mm x 707 mm for diameter 2,2
Size:
Assembled: 
Length: 4 m
Width: 2 m for diameter – 2 m; 2,2 m for diameter – 2,2 m
Height: 2,1 m for diameter – 2 m; 2,3 m for diameter – 2,2 m (without Chimney)
Flat-Pack: 
Length: 4 m
Width: 0,8 m
Height: 1,5 m for sauna with electric stove; 1,8 m for sauna with wood-fired stove
Feet arrangement for sauna:
Description
Barrel sauna S4PV is a TOP product in the category "Outdoor sauna"!
The popularity of this model of the Outdoor sauna is primarily due to its convenient layout, which allows you to enjoy SPA-procedures with maximum comfort. The construction of S4PV sauna includes:
a spacious steam room
a functional dressing room that allows minimizing heat losses into the environment
cozy terraces with seats, where it possible to relax and refresh between steam sessions
Enlarged dimensions of the dressing room (compared to other Barrel sauna models) allow you to complement this room with various accessories, such as shelves, hooks, or even a folding table and turn it into a relaxation room.
The standard kit of Barrel sauna S4PV includes a wooden front door and a tempered glass fireproof door to the steam room.  If a customer wishes, the kit can be complemented with a reliable, powerful Finnish heater Harvia: electrical or woodfired.  The rounded shape of Outdoor sauna will provide fast uniform heating and good air circulation during any season, avoiding any cold floors and corners. Unlike classic garden saunas, the S4PV model is a very economical option, as only 6-8 pieces of cordwood are enough to heat it, and after 30-40 minutes the temperature in the steam room reaches 70 degrees. When you buy Harvia heater in Baltresto online store, you will also get a gift: 20 kg of stones, they are an excellent heat accumulator and maintain a constant temperature.
The dimensions of benches in the steam room make it possible to comfortably accommodate two adults if they are lying or four people if they are sitting. We put shelves made from soft-wooded broadleaved wood species in Barrel sauna. This material has a low thermal conductivity and will not burn a human body even at high temperatures. Outdoor sauna walls are made from thermowood or spruce with a minimum thickness of 40 cm, they have a low resin content, and they are well resistant to fungi and mold. When you buy assembled Barrel sauna from Baltresto, you can also order additional wood treatment with special formulations.
Bitumen shingles of different colors are laid on the roof (at the customer's choice). This material is highly flexible, reliable, and low weight, so it is ideal for Barrel sauna, as it can be installed without a solid foundation.
If you want to buy Barrel sauna at a good price or calculate the costs of an individual project, just make an order on the site or get in touch with our sales manager!
Shipping cost is not included.
The shipping cost depends on the total weight of your order and your destination.
For more information, you can visit our Delivery Page