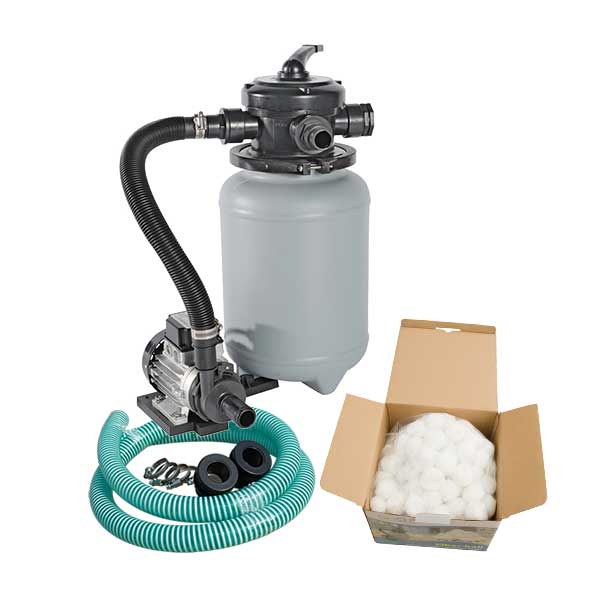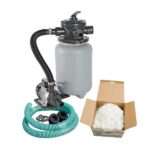 Filter
This filter purifies water and removes substances and fats from the water with an absolute minimal amount of chemical additives.
Basic set includes:
Filter

Polyethylene filtration balls

Hose 2 m

Flanges 2 sets

Clamps 4 pcs

Plugs 2 pcs
By parts
Information
Description
Input power: 140 W
Rated voltage: 220 ÷ 240 V
Connections: IN/OUT Ø 32/38 mm
Filter volume: 15 l
Maximum flowrate: 3.6 m3/h
Filter media quantity:
Sand – 15 kg
Filter Balls – 420 gr
Description
General information
Ensure good operation and long life of the filter by following water quality limit values below.
Chlorine content: max 3.5 mg/l (ppm)*
pH value: 7.2–7.6
Alkalinity: 60–120 mg/l (ppm)
Calcium hardness: 100–300 mg/l (ppm)
Iron: max 0,1 mg/l (ppm)*
Copper: max 0,2 mg/l (ppm)*
Manganese: max 0,05 mg/l (ppm)*
Phosphorus: max 0,01 mg/l (ppm)*
Nitrate: max 50 mg/l (ppm)*
Chloride (salt) content: max 250 mg/l (ppm)
If the water quality limit values are not adhered to, the product warranty does not apply.