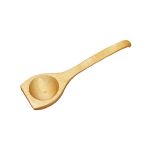 Scoop
Scoop from Baltresto is a convenient, practical, and eco-friendly accessory for Barrel Sauna, it is also safe in operation.
Scoop is used for watering hot stones and creating steam in the steam room. Scoop has a long handle because even a little water spilled on stones immediately creates hot steam which can burn your hand.
Wooden Scoop perfectly fits a garden sauna, while heating it transfers the light wood aroma into water.