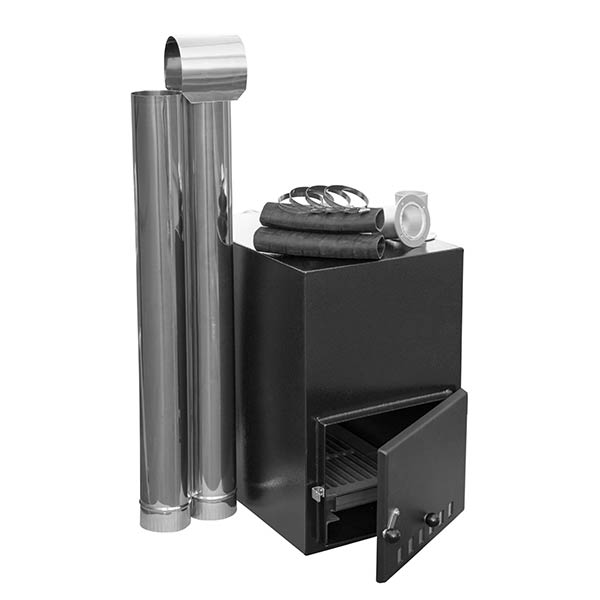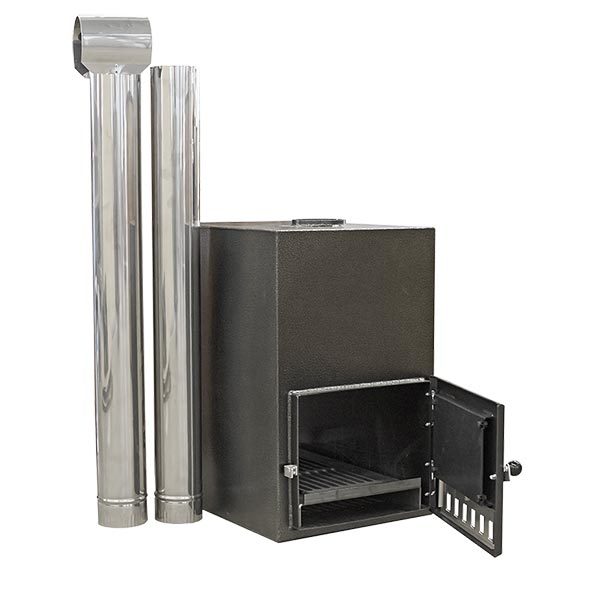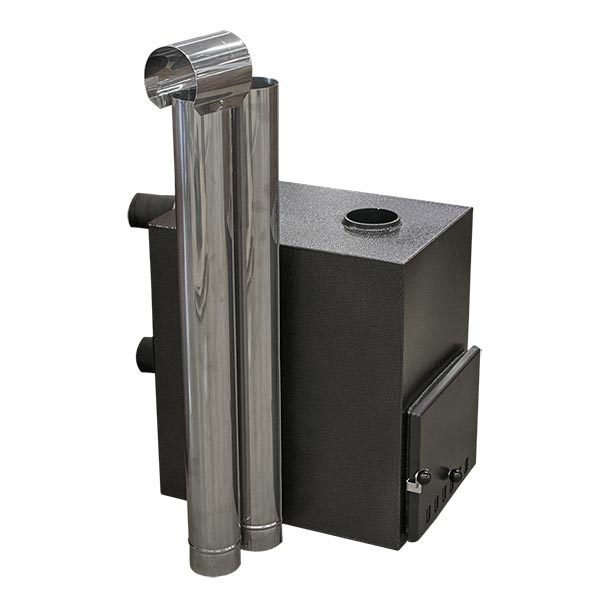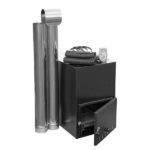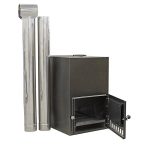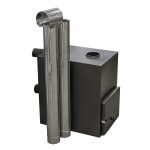 Aluminium Outside Stove 35kW
Outside

Stove 35 kW:
Height: 68cm
Length: 71 cm
Width: 41 cm
Basic Set
includes:
Outside Wood-Burning Stove
Chimney 1 m, Ø114 mm,
Chimney 1 m, Ø 114 mm, with Rain cap
2 flanges, Ø 75mm
2 x 20 cm hoses
4 hose clamps
Metal grate
Maximum length of firewood: 
472 mm
The stove is designed to heat water in hot tubs with a volume of 500 to 3000 liters.
The fuel for the stoves can be firewood of various tree species such as birch, spruce, pine, etc.
Stoves basic conditions for use:
– The stoves are specially designed for the Baltresto Production OÜ wooden and fiberglass hot tubs. Operation with other hot tubs and hot tub liners is not guaranteed.
– Maximum acceptable water temperature in the hot tub is 45 degrees.
–  It is not allowed to close the input and output pipes of the stove during the burning and until the stove is cooled down. (for the external stove)
–  It is not allowed to create extra pressure in the stove. (for the external stove)
–  It is not allowed to let the water freeze in the stove. (for the external stove)
–  It is not allowed to let the water freeze in the hot tub. (for the internal stove)
Parameters:
Height – 68 cm
Length – 70 cm
Width – 41 cm
Weight – 44 kg
Capacity –  35 kW
Description
An outside stove is very convenient in operation and maintenance As the heater is mounted separately, it allows to save a lot of space inside the hot tub. In case you need high-quality stove, pay attention to outside aluminum stoves, which heat water quickly with minimum firewood waste. Baltresto offers two aluminium models – 27 kW and 35 kW. The first model is smaller in size and a bit less powerful, which makes it suitable for smaller hot tubs. Choosing a hot tub of smaller diameter with the outside aluminium 27kW stove, you will get perfect bathing experience at a reasonable price! For bigger hot tubs Baltresto has developed an advanced aluminium 35kW stove. Significant advantage of this model is ability to regulate air supply, which also means the opportunity to control stove capacity. In addition, there is a new kind of a door handle, which makes opening even more safe and comfortable. One more positive change is bigger firebox, which accommodates more wood. As a result, you do not have to add firewood many times. Please make sure, there is no water left, when the stove is not used during the winter time. In case this rule is not observed, water may freeze and damage the stove.
The speed of heating water with Baltresto 35kW stove