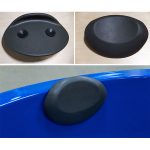 Headrests for fiberglass hot tubs with two suction caps
The headrest is an excellent and fast way to raise the comfortability of your body when soaking in the fiberglass hot tub. Thanks to its suction caps a headrest can be attached to any available fiberglass hot tub from Baltresto easily and quickly. A headrest is made in a stylish design, it is black and pleasant to touch during Spa-procedures.
Description
Note! When you order Outdoor Hot Tub Octa or wooden jacuzzi Quattro, the standard set includes several headrests!
Are there the same number of headrests as the number of bathers?
Theoretically, you can attach any number of headrests to a fiberglass hot tub! Thanks to the suction cap attachment headrests are easily assembled and disassembled.