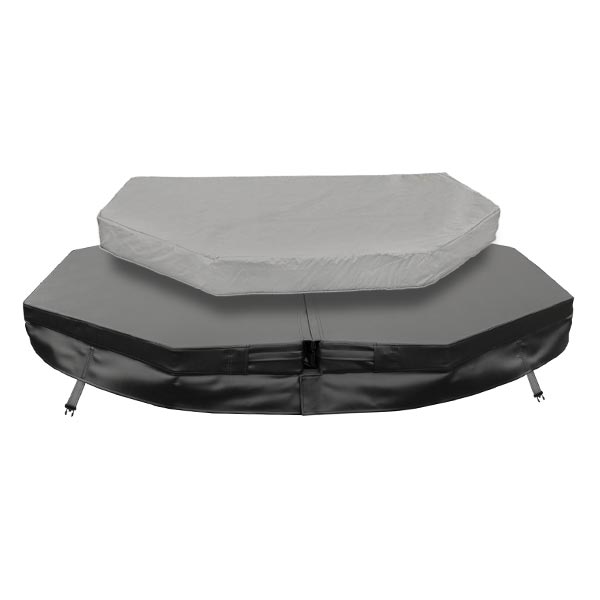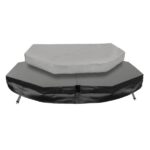 Insulated cover
Insulated cover is available for fiberglass Hot Tub with an outside stove.
Insulation material: 70 mm thick aluminum frame is covered with modern EPS insulation material, which is durable, low-flammable, and fast to exposure.
Surface material: high quality and robust ultraviolet resistant artificial leather.
Inside: heat reflecting fabric.
Fixture: four fixed straps with fasteners on Hot Tub walls (4 locking clips included)
Child protection: the cover can be locked with the code lock included in the kit.
Free delivery at ordering wood-fired Hot Tub! 
Description
Hot Tub cover is one of the most essential accessories.
The main tasks of the Insulated cover are:
For example, the Insulated cover prevents a child from entering an Outdoor Hot Tub without an adult's supervision because the cover is securely held by straps and locked with a code lock. This is really important because it can be a problem for a child to get out of a Hot Tub without an adult's help. Hot tub insulation cover withstands a child's weight if it falls or climbs into a Hot Tub unnoticed by adults. If you use Hot Tub liners built into the terrace, the Insulated cover can also prevent a child from an accidental fall into a Hot Tub.
! Please note that the cover is not designed to withstand an adult's weight!
Saving energy (speeding up the time of heating wood-fired Hot tub)
Hot tub cover greatly influences the speed of heating water in an Outdoor Hot tub and keeping it warm. The use of modern EPS insulation material in the Insulated cover structure accelerates water heating by about 30-40% depending on the operating conditions. The Insulated cover design involves installing some heat reflecting fabric onto its inner side and a 10 cm wide artificial leather hem, which also improves the water tightness and thermal insulation. The water-cooling process is about 3-4 times slower than the same process but without the Hot Tub cover, so the water remains warm for up to several days depending on the ambient temperature.
The expenses for purchasing Insulated cover are insignificant compared to those spent on energy, time, and effort saved in one moment.
 Protecting Outdoor Hot Tub from rubbish, dust, or snow
Water cleanliness is especially important for comfortable spa procedures, and Hot Tub cover also plays a significant role. The cover prevents leaves, dust, bird droppings, snow, and other unwanted debris from getting into Outdoor Hot Tub. With Hot Tub cover, water remains clean and ready for its use whenever you want, even if you do not have time to remove snow out of the pool.
Thanks to its color design and beautiful texture, Hot Tub cover perfectly is in tune with wooden elements of Outdoor Hot tub, terrace, or surrounding nature.
Hot tub Insulated cover from Baltresto is so designed that it is durable but at the same time light and quite easy to use. Hot Tub cover is conveniently folded in the middle, which means it requires less storage space when using Hot Tub. Such a design also makes it easier to control the water temperature while heating, without having to remove the entire cover from Outdoor Hot Tub to look at the thermometer or to mix water.  Thanks to its convenient handles, it can be quickly lifted and removed from the top of Outdoor Hot Tub for bathing. Hot Tub cover has a handy zipper, so if necessary, you can easily remove the top fabric as a cover and clean it properly.
The wood-fired Hot tubs Quattro, Octa, and Round are equipped with a Hot Tub cover that can be folded in the middle. The oval Hot tub has a solid Insulated cover.
Weight: depends on the model, it can be approximately 12 kg
Click here to read the article in our blog, where we considered different options of accessories for keeping water temperature as well as saving energy and heating time.
Insulated cover care recommendations:
– Fixate the cover with 4 locks to prevent it from being blown away by the wind
– Periodically clean the cover with detergents, especially the underside of the lid. The frequency of cleaning depends on the contamination and composition of the water in the hot tub. For example, start washing the cover once a week. If spots or dirt appear, shorten this period, if not, increase it.
– Briefly open the cover from time to time to avoid stagnant air and mold.