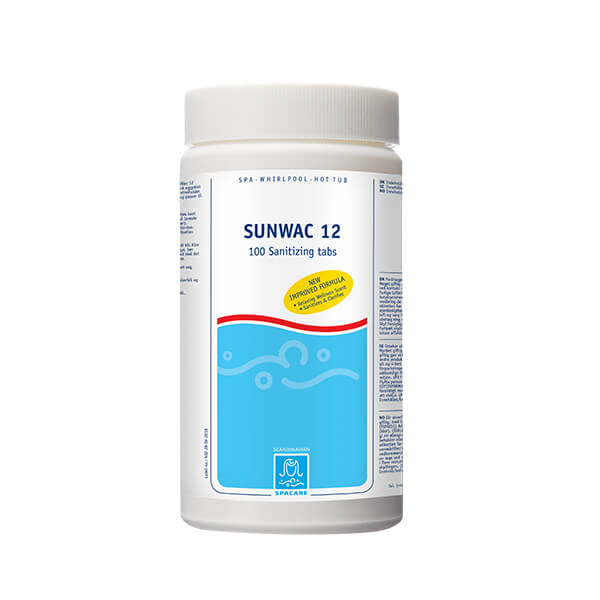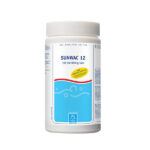 Spacare Sunwac 12, 100 pcs.
SpaCare SunWac 12 tablets are used to ensure water hygiene in the outdoor spa, massage bathtub, hot tub and children's swimming pools with a water content of 1000-3000 liters.
The SunWac 12 is a Scandinavian best-selling spa product. With SunWac 12, you get clean and fragrant water in your spa. The product has an organic Egyptian mint extract, which gives water a wonderful, relaxing scent, while the chlorine in the tablet ensures that you have clean water in your spa. The tablets are developed in Denmark and are suitable for all types of water in Scandinavia.
The SunWac 12 tablets should only be added before and after bathing – and with a dose that depends on how big your whirlpool is. That way you avoid time-consuming chlorine measurements and cumbersome dosing instructions. Add only 1 tablet before bathing and 1 tablet after bathing (for whirlpools with 1,000 – 1,500 liters of water). It is wellness and cleanliness in the same product.
Before bathing:
Add two tablets "SunWac 12" per 1000 liters in the hot tub, it's better to put it in the skimmer and switch on water circulation. The water massage (jets) is on lowest
set speed. Dissolving tablets takes about 5 minutes, then you can take a bath.
After bathing:
Add one tablet "SunWac 12" per 1000 liters for post-disinfection of the hot tub. After about 20 minutes you can take the bath again, without additional tablets.
Warning! It is very important for keeping water clean and hygienic to follow the rule of "After the Bath".
If you do not bathe until the next day or later, proceed as for "Before bathing".
Chlorine, alkalinity and pH values ​​should be checked regularly and adjusted accordingly:
Chlorine = 1.0-3.0 mg/l;
pH = 7.0-7.4;
Alkalinity = 80-120 mg/l.
If the hot tub is used frequently, then the water should be changed regularly and the surface of the bath should be cleaned well.
Remember to follow the rules of personal hygiene. Take a shower before bathing.
Best before: see on the package.
The empty package should rinse with the water and send to waste collection points for recycling.