What kinds of sauna accessories are needed?
Iana
Sauna Accessories – such important things! 
To have an exceptionally pleasant and relaxing session in your home sauna, you need to take care of every little detail. Usually, when equipping a home sauna, we first think of which stove to choose. And that's the best practice because so many things depend on a good and reliable stove. However, when the stove is already purchased, it's time to choose all the high-quality and stylish sauna accessories. A careful approach to the choice of such accessories will create a unique atmosphere in the steam room, and it will make the space excellent and the resting sessions memorable. Which sauna accessories are necessary to get?
Let's talk about the Sauna Whisk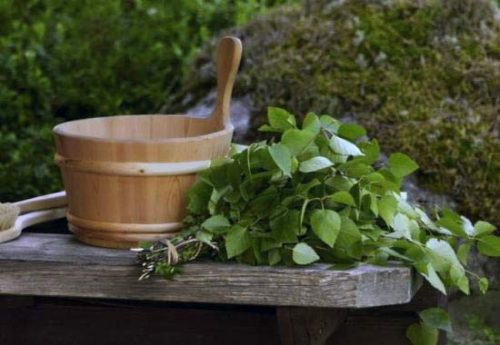 Of course, the main accessory is the Sauna Whisk. Its main task is to activate blood circulation in human body. There is a wide variety of Sauna Whisk. You should make a choice depending on what kind of problems does the person have who decided to go to the sauna.
For example, oak sauna whisks will be an excellent solution for those who have some sort of skin issues. They are especially effective for the oily skin problem. If we can get some birch sauna whisk , then it will be a great option for the people who are concerned with rheumatism and various kinds of joint pain. In such cases, it can prove to be a vital element. Another very popular sauna whisk is coniferous trees. And juniper whisk will be an excellent prophylactic against colds.
Useful properties of a birch sauna whisk: Truth and Myths
There is quite a lot of information about the useful properties of such whisk and their potential risks. But let's try to figure out what is the truth and what is absolute fiction.
Antiseptic action:


Often, you will read that birch whisks have antiseptic properties, and this is somewhat While in the sauna, the surface vessels of the skin expand, and the whisk steam stimulates the blood flow even more. As a result, there is healthy blood circulation, improved metabolism, and activated immune system. Thanks to this, birch whisks help fight infectious diseases on the skin (but, it is clear from the description that the same effect can be obtained by using any other whisks too). Does birch whisk contain any substance that can have a destructive impact on infectious agents? There is no clear answer to this question. Perhaps, the birch tree indeed contains phytoncides that can kill bacteria. It is a possibility that this is a far-fetched action, but there is no actual clinical evidence of such effects.


Muscle relaxation:


Can a birch whisk relax muscles? Another good question and it does not have a clear answer either. Probably, the birch whisk relaxes the muscles due to the weak massage effect, which can be achieved by using any whisks. Does a birch whisk have any advantages in this sense? Probably not. At the same time, many people believe that birch whisk is softer and gentler than the oak But this is rather a subjective assessment. Some people like birch branches more than the others, and other people prefer oak or alder branches.

Relief from bronchial asthma:

Often you will hear that for bronchial asthma, it is necessary to use birch whisks because they help to improve breathing. In fact, bronchial asthma is an allergic disease. In its severe cases, it should be treated with great care. Visiting the sauna, even more helpful if coupled with some essential oils or even just smelling whisks, such as birch, can really give much relief from the allergic reaction. The birch whisk is unlikely to help in fighting against Asthma or any form of allergy, in fact, it can even sometimes be the cause of aggravation of the allergic process. Therefore, in such situations, it is better to avoid the use of any whisks, including a birch one.
Based on everything that is said above, a birch whisk does not have any particular advantages over their counterparts made from the branches of other trees. And it is the reality. You can choose it for its availability, pleasant sensations, personal habit or any other reason. But you should not expect any other advantages from the birch whisk compared to the oak one.
Health Benefits of Bamboo Whisk
We should also mention bamboo whisk.It is often used in the Turkish baths, but when needed, it can be used in an ordinary sauna too. It is a bundle of sticks, which really has healing properties, It: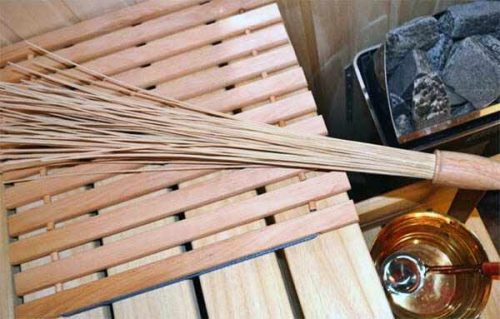 greatly helps with stress;
strengthens blood vessels;
prevents the appearance of rheumatism;
reduces spinal pain;
improves the condition of blood vessels;
has positive effects on the musculoskeletal system;
smoothens stretch marks and cellulite signs;
improves skin condition;
helps to fight acne and pimples.
As a result of using such whisk, the general health of a person improves significantly. You should remember that such whisk does not need to be steamed, unlike the above ones. Its application is very simple. You just need to understand the sense of it. In short, they need to be gently pecked and overlapped, as well as a kind of patting and various kinds of rolling movements. It should be used before or after steaming human skin. Massage with any whisk should be pleasant and last no more than 3-5 minutes. Otherwise, the skin may become irritated. You can buy bamboo whisk from our website.
 Headrest is a necessary sauna attribute 
Might be , you know that the sauna has a great relaxing effect on the body. Therefore, when doing the procedures in the supine position, the place must be equipped with maximum comfort. The spine and muscles should rest in a comfortable physiological position. To do this, use a headrest.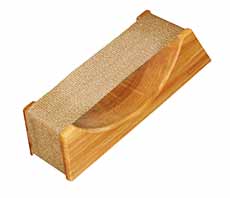 The sauna headrest is a particular detachable piece that allows you to comfortably get a bath in the supine position by using it as a pillow. The most popular ones are wooden headrests, combined with natural fabrics (made of linen and cotton). They dry quickly, do not heat up in the sauna, easy to clean, and do not lose shape. It is desired to have several such headrests in the sauna so that you can comfortably relax with a small company.
We offer to complement your sauna with an aspen headrest with linen fabric combination. The advantage of the aspen is that it is a dense wood and resistant against the changes in temperature and humidity. It retains its original appearance for a long time and does not crack.
Sauna Thermometer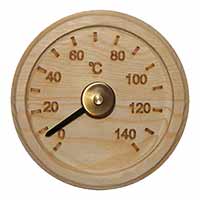 As you know, it is necessary to maintain a certain temperature in a sauna, especially since its fluctuations have some features. It takes into account not only the high temperature but also the high humidity. That is why such a sauna accessory will not only decorate space but will also serve the necessity.
When you choose a thermometer, you need to pay attention to the manufacture material. Usually, they are made of wood and metal.
In our opinion, the most stylish, convenient, and practical thing can be a round-thermometer. Often it is constructed upon a wooden base, and it externally looks like a clock. This thermometer is not afraid of water, and the lifespan is quite large. The thermometer has a scale from 0 to 140 degrees.
Some people believe that the sauna thermometer is not much of a necessary thing. However, you should know that high temperatures are extremely harmful for the body. For example, the sauna temperature above 100 degrees is absolutely dangerous. The normal temperature ranges between 70-80 degrees. Therefore, by installing a sauna thermometer, you can stop worrying about your health.