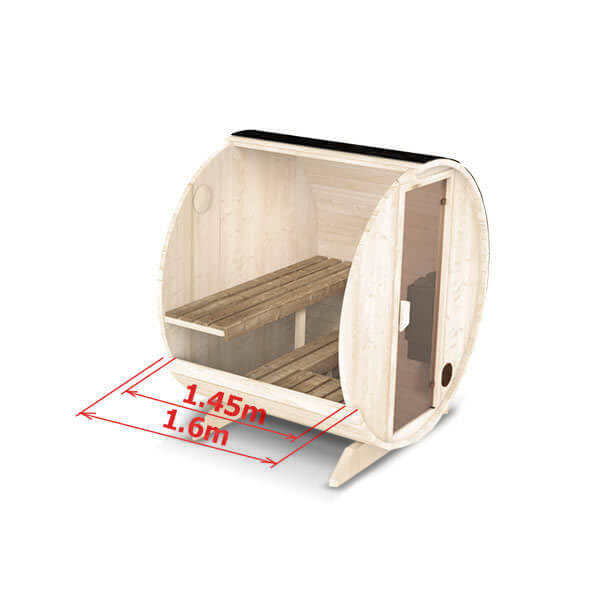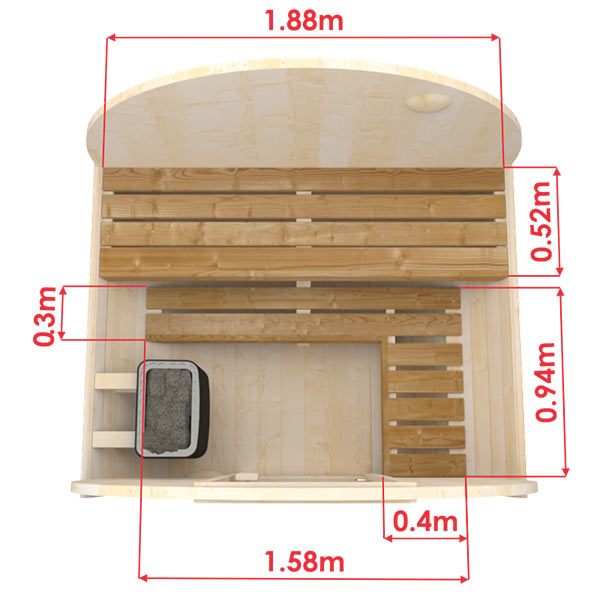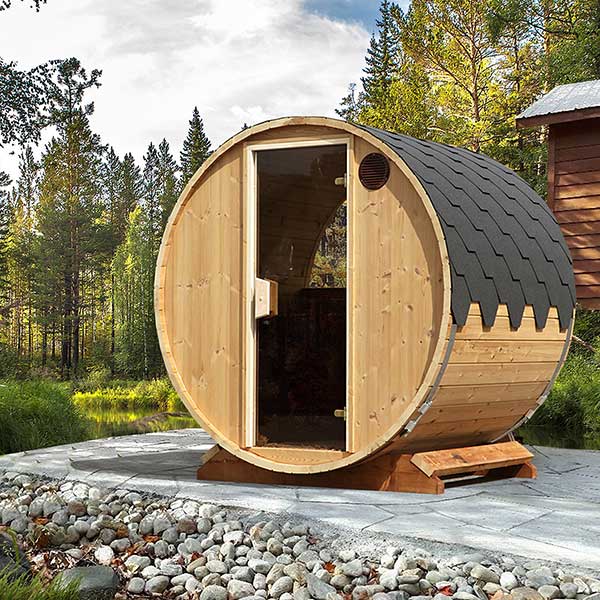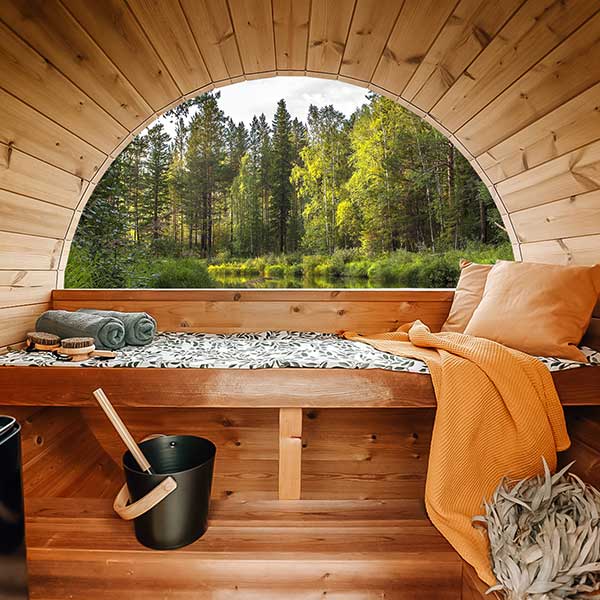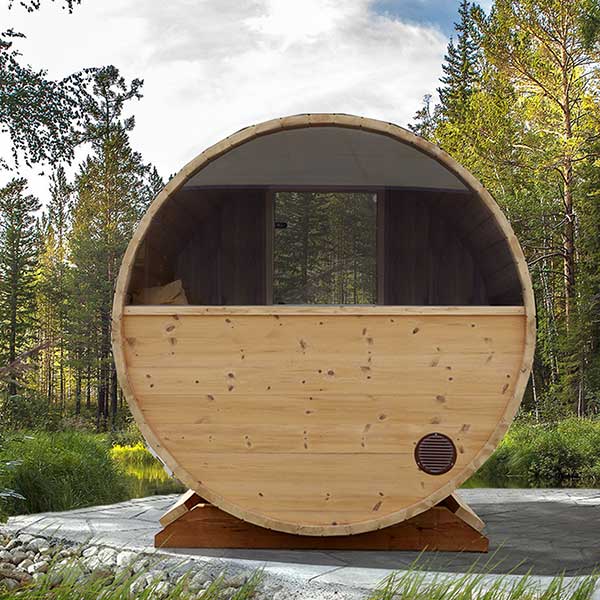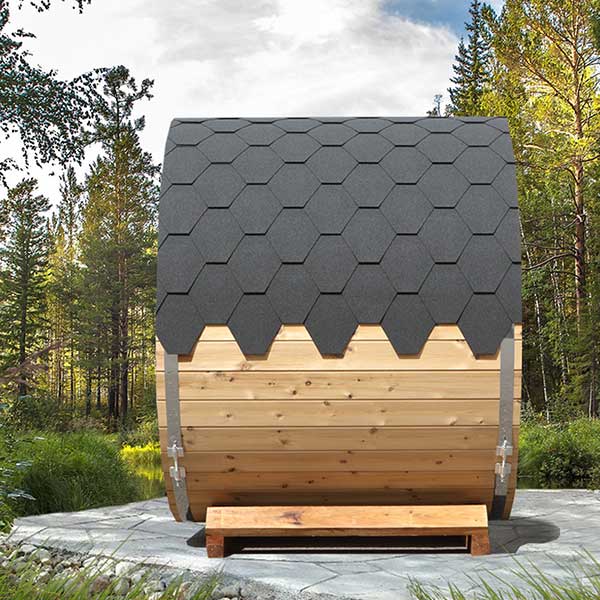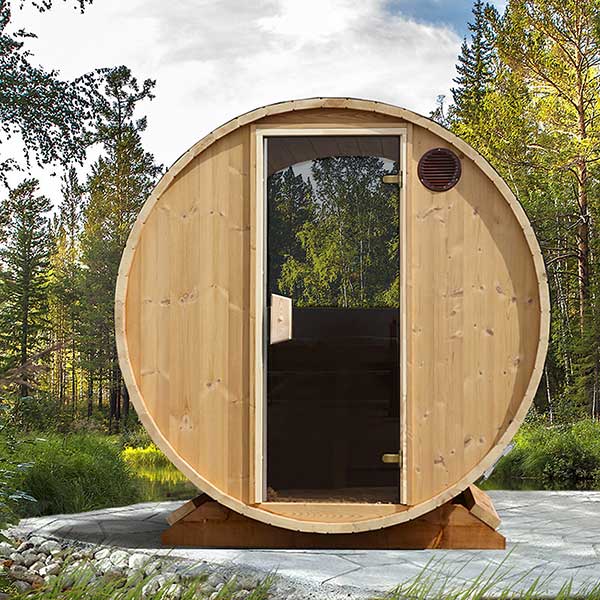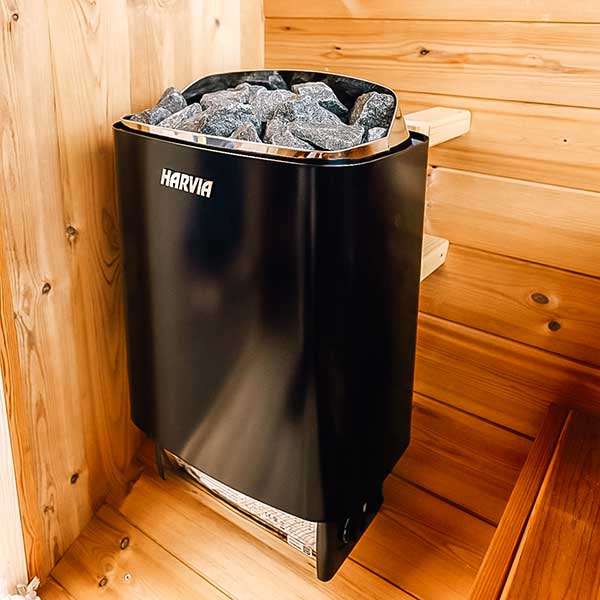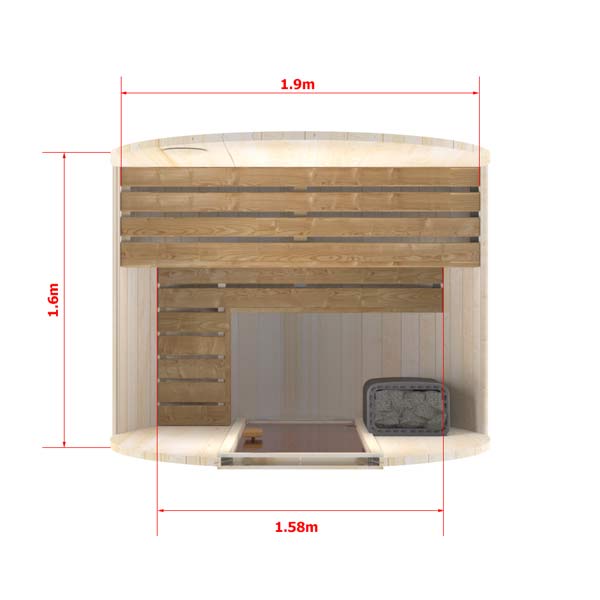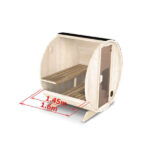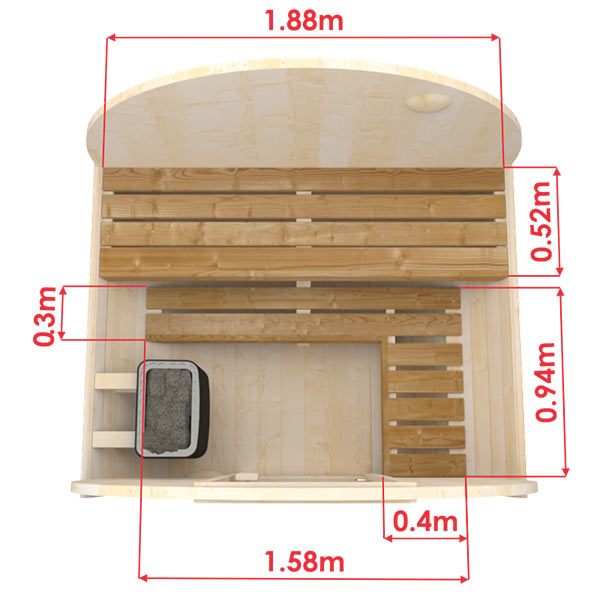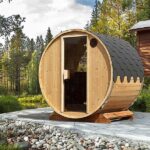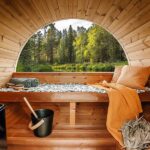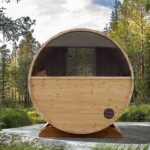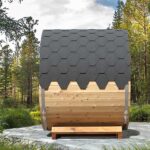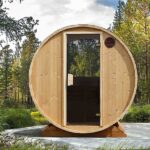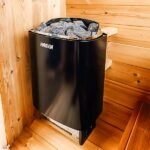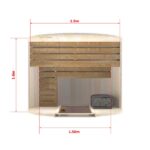 1,6m Outdoor Sauna for 3 persons (S16E)
The smallest Outdoor Sauna having only a steam room is the ideal solution for small yards and terraces. Such a Barrel sauna with Electric Stove will suit a small family or a group of close friends. Despite its compactness, this Outdoor steam room seats up to 3-4 people comfortably. The Barrel Sauna kit is delivered in both assembled and non-assembled versions, also, it can be made from spruce or thermowood. When buying Outdoor sauna with Stove, you will get 20 kg of sauna stones. It is available only in 2 m diameter, with 6-8 kW Electric Stove.
Choosing this compact 2- person outdoor sauna, you will get perfect quality for a reasonable price, fast heating, and space-saving.
Basic Set Includes:
Spruce / Thermowood barrel (thickness 40 mm, Ø2 m, h = 2,1 m – without chimney)
Benches from Thermowood
Brown Tempered Glass Door
Bitumen Shingle Roof
Sauna Stones (with stove only)
Stainless steel hoops – 2 psc.
Accessories
Gallery
Parameters
Description
Delivery
Diameter – Ø2 m
Weight (kg) – 500
Thickness – 40 mm
Capacity – 3 persons
Glass door size: 1710 mm x 707 mm
Wooden door size: 1710 mm x 707 mm
Size:
Assembled: 
Length: 1,6 m; 2 m (with canopy)
Width: 2 m for diameter – 2 m
Height: 2,1 m for diameter – 2 m (without Chimney)
Flat-Pack: 
Length: 2 m; 2 m (with canopy)
Width: 1,2 m
Height: 1,5 m for sauna with electric stove
Feet arrangement for sauna:
Description
Mini Barrel sauna is a stylish, economical, and practical solution for smaller yards!
Barrel sauna is only 1.6 m long and consists of a single room – a steam room. This Outdoor sauna model is available only with 6kW or 8 kW electric stoves.
Small dimensions of Barrel sauna and fast heating result in low electricity costs. It takes less than an hour for the air in the steam room to warm up to comfortable Finnish sauna temperature (+70 C). The sauna keeps heat well because only high-quality dried timber is used for its construction. The thickness of Baltresto Outdoor sauna walls is at least 40 mm and complies with high European standards.
When designing Barrel sauna, our engineers had to avoid some natural crampedness in the steam room, which could be caused by the small size of the structure. However, the elaborate arrangement of shelves allows at least 3 adults to be comfortably accommodated: the largest shelf is 1.9 meters long, and the smallest, "sitting" one is 1.58 meters long!
Shelves themselves are made from thermowood due to its functionality.
The basic 1,6 m Outdoor sauna kit includes a tempered glass door:
• Glassdoor does not change its dimensions under high temperatures unlike a wooden one,
• it allows creating a pleasant shadowy atmosphere inside the steam room as well as makes the room look bigger.
• it guarantees its safe usage when located near the stove.
Thanks to its low weight, 1.6 m Barrel sauna can be installed on any flat ground that excludes any contact between soil and wood. So, when you buy this model, not only do you get a comfortable place to relax, but also a kind of landscape decoration for your small garden without any problems!
Shipping cost is not included.
The shipping cost depends on the total weight of your order and your destination.
For more information, you can visit our Delivery Page