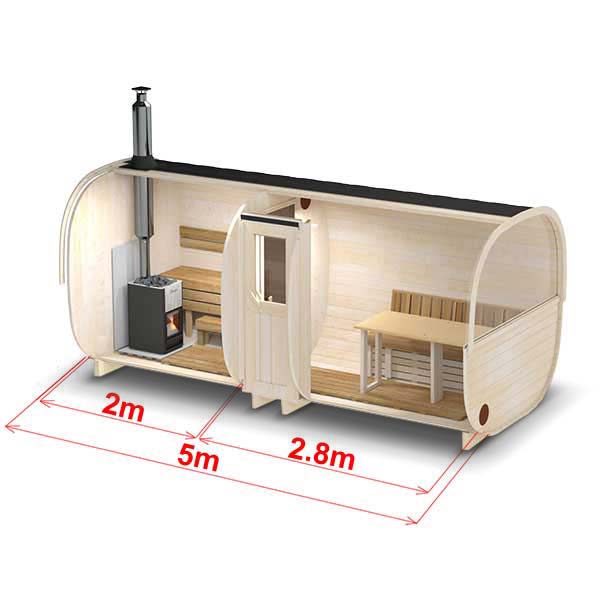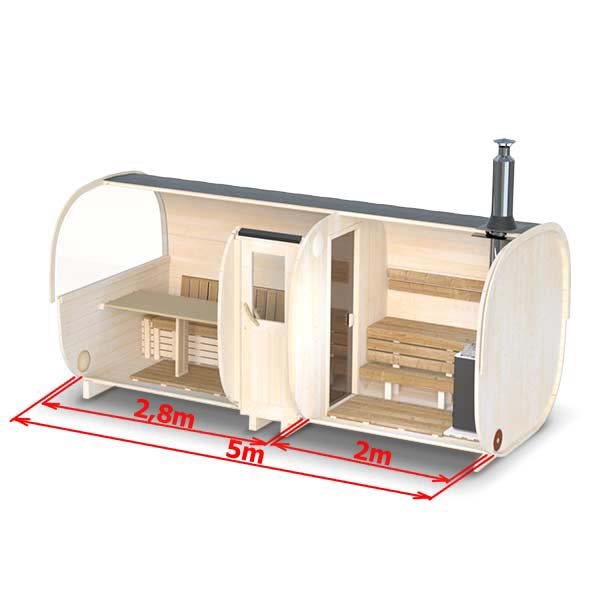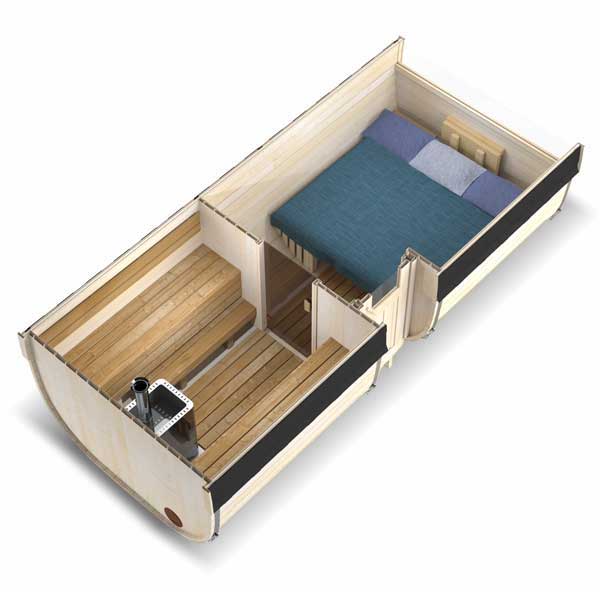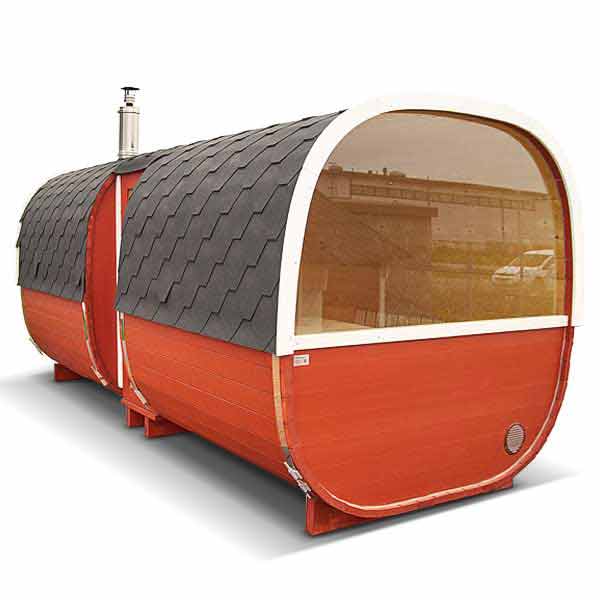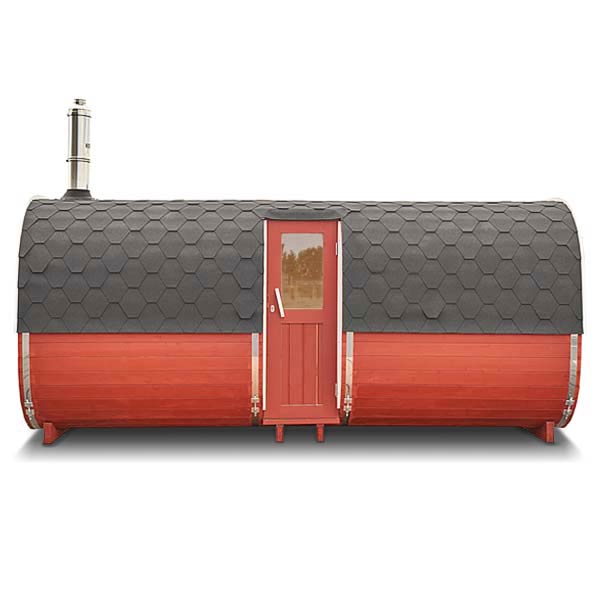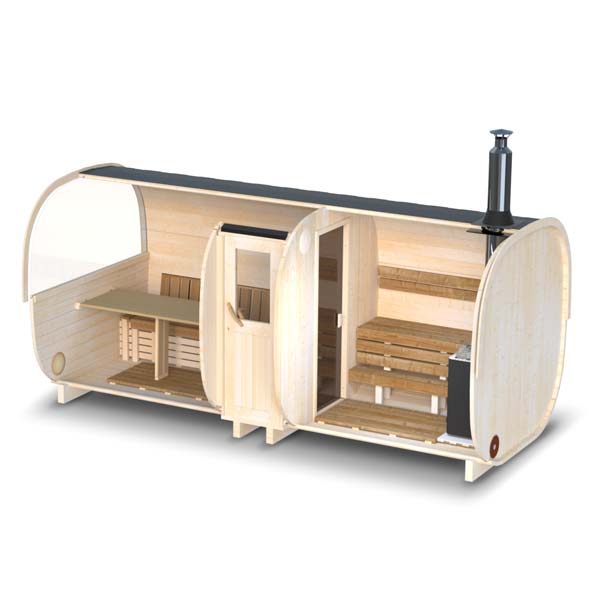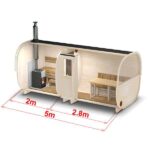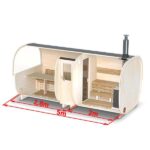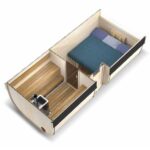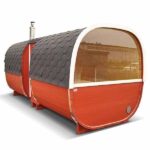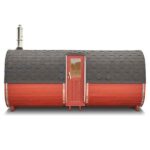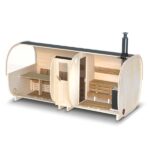 5m Outdoor Sauna for 6 persons (S5P) with seats or bed
The largest and most spacious Outdoor sauna in the assortment has an innovative, thought-out design and functional content inside. Outdoor sauna with changing room is a 2 in 1 model because seats and a table in the dressing room can be easily transformed into a 2.1 x 1.8 m bed, which can be a great solution for those who like spending time with friends and family in nature. This Ø2.2 m Garden sauna is available in both assembled and non-assembled versions, with both wood-burning stove Harvia- and 8-kW Electric Stove. A semi-panoramic window available in the basic kit provides comfort and convenience, as well as much natural light in the dressing room, and allows you to admire the beautiful view. Also, backrests, footpads, and a floor are included in the basic kit.
Basic Set Includes:
Spruce / Thermowood barrel (thickness 40 mm)
Sitting room seats can be transformed into bed 2,1х1,8 m
Thermowood Benches and floor
Brown Tempered Glass Door in the steam room; Exterior Wooden Door with a Lock
Folding table 1,8*0,6 m
Panoramic Window in the sitting room
Backrest, 2 pcs.
Bitumen Shingle Roof
Sauna Stones (with stove only)
Stainless steel hoops – 4 psc.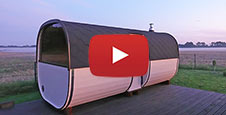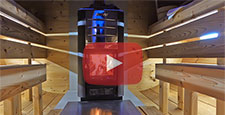 Accessories
Gallery
Parameters
Description
Delivery
Weight (kg) – 1500
Thickness – 40 mm
Capacity – 6 persons
Glass door size: 1890 mm x 707 mm for diameter 2,2
Wooden door size: 1890 mm x 707 mm for diameter 2,2
Size:
Assembled: 
Length: 5 m
Width: 2,2 m
Height: 2,3 m (without Chimney)
Flat-Pack: 
Length: 5 m
Width: 1,2 m
Height: 1,5 m for sauna with electric stove; 1,8 m for sauna with wood-fired stove
Feet arrangement for sauna:
Description
The project of Outdoor Sauna with seats or bed is the most popular construction, if you are planning to build a sauna for spending time with friends.
Sauna S5P is a special model for us: it's our experiment to improve the popular barrel sauna. Leaving the softness of the lines, our engineers significantly increased the internal volume of this type of outdoor sauna – so, the sitting room seats can be transformed into bed 2,1х1,8 m!
Outdoor Sauna with seats or bed differs from a proper country house by its construction, and it is not a common living space:
The interior design of Outdoor Sauna is classical
Hot room takes at least 50% of the space;
Only environmentally-friendly materials are used in the construction, because the main project goal is to improve health.
Outdoor Saunas combining a guest house and sauna are greatly demanded by landowners. This tendency is due to the high project functionality and comfy conditions:
Economy of space. For example, the land plot is not that big or there are some reasons not to build any additional constructions;
No permits for the groundwork and construction are necessary, so Outdoor Sauna can be easily moved from one place to another in case of changing the plot design
Reasonable cost. Outdoor Sauna with bed made from thermally modified timber is a quick and cheap solution to build a sauna.
Thermowood  is pleasant to look at, has a minimal shrinkage, and it is easy to arrange
There are no extra expenses on the maintenance and utility systems
The panoramic window available in the project provides you with comfort and convenience as well as gives a lot of natural light to the premises.
Small windows air and support the optimal microclimate in Outdoor Saunas
A team of professionals has developed the project of Outdoor Sauna with bed. Designers and construction engineers took part in developing this project. Thanks to their participation we succeeded in creating a comfortable and cozy Outdoor Sauna which is properly constructed from the technical point of view. If you want to add any accessories to Outdoor Sauna S5P, for example, a round panoramic window, LED-lighting or water tank, our managers are always ready to consult you on any questions and help you make a choice.
Shipping cost is not included.
The shipping cost depends on the total weight of your order and your destination.
For more information, you can visit our Delivery Page