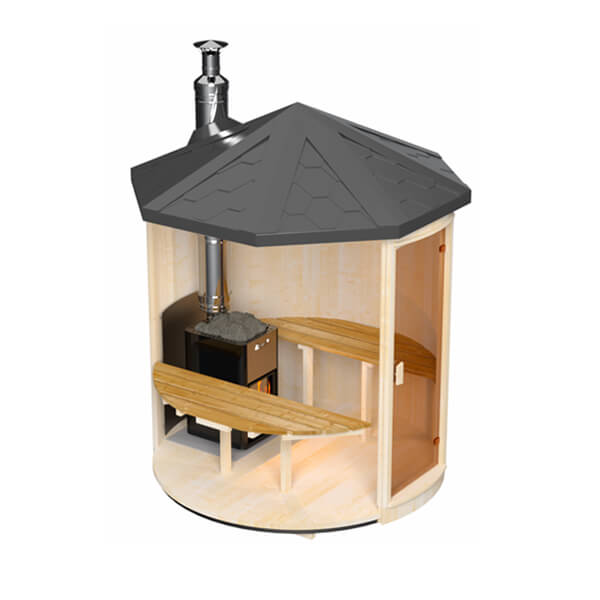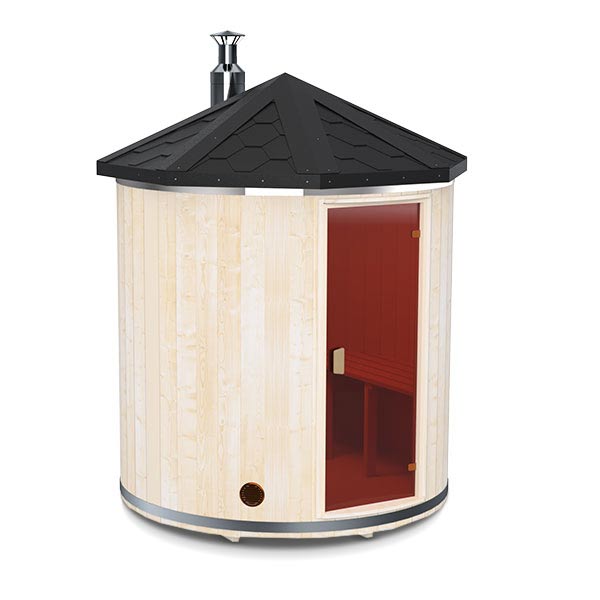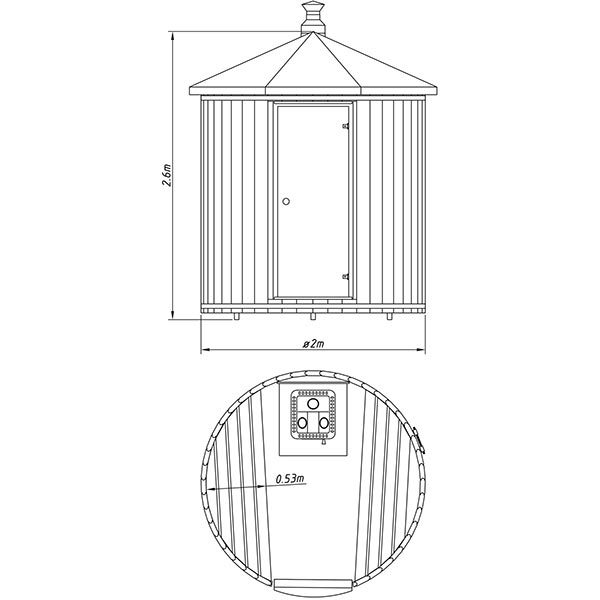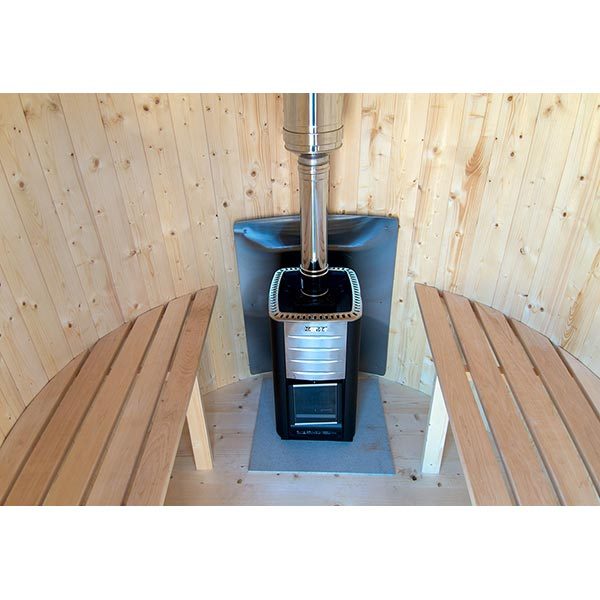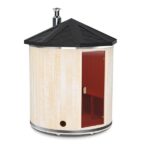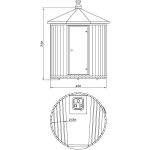 Vertical Outdoor Sauna for 2 persons
Vertical Sauna is a small 2m Barrel Sauna made from spruce or thermowood. Thanks to its compactness, it ideally fits a small garden and is recommended for small families of 2 persons. Barrel Sauna kits or its assembled version are available both with a wood-burning stove and 6-8 kW elektro oven. Such an Outside sauna takes much less space than other models while keeping all the advantages. Choosing this compact Sauna you will get excellent quality for a good price, fast heating of a steam room, and space-saving at your site.
Basic Set Includes:
Spruce / Thermowood barrel (thickness 40 mm, Ø2 m, h = 2,6 m-without chimney)
Benches from Thermowood
Brown Tempered Glass Door
Bitumen Shingle Roof
Sauna Stones (with stove only)
Stainless steel hoops – 2 psc.
Accessories
Gallery
Parameters
Description
Delivery
For the assembled sauna the roof is not installed. The cause is transportation difficulties. You will have to install the roof yourself. Instructions are here >>
Diameter – Ø2 m
Weight (kg) – 700
Thickness – 40 mm
Capacity – 2 persons
Glass door size: 1890 mm x 707 mm for diameter 2,2
Wooden door size: 1890 mm x 707 mm for diameter 2,2
Size:
Assembled: 
Length: 2 m
Width: 2 m for diameter – 2 m
Height: 2,6 m for diameter – 2 m (without Chimney)
Flat-Pack: 
Length: 2 m
Width: 0,8 m
Height: 1,5 m for sauna with electric stove; 1,8 m for sauna with wood-fired stove
Feet arrangement for sauna: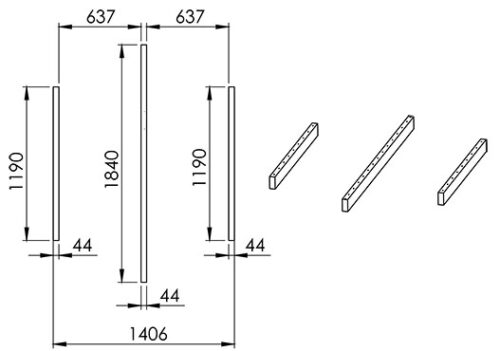 Description
Vertical Outdoor Sauna is an ideal choice for the small backyard!
The foundation of an excellent vertical sauna is only 2.0 meters in diameter. This outdoor sauna height is only 2.6 meters, so it can be easily placed in a confined space or used as a mobile sauna. When you plane your backyard, you have to consider some safety regulations: outdoor sauna must be located at a sufficient distance from other buildings and combustible materials.
Despite its compact dimensions, a vertical sauna is not inferior to other types of barrel saunas as far as the quality of SPA-sessions is concerned. This model allows accommodating a small family or a company of close friends comfortably. Thanks to its well-designed arrangement of shelves, both two and four people will feel comfortable and cozy in Vertical Outdoor Sauna. This barrel sauna is available both with a wood-fired stove or electric stove.
When you buy Outdoor Sauna in Baltresto online-shop, you can get a reliable Finnish Harvia stove with all the necessary equipment: Stovepipes, rain collar + rain hood, protective plates, fastening materials + 20 kg of sauna stones as a gift!
Vertical sauna is available both as assembled and as convenient kit "Do It Yourself". There are three colors of its cover for you to choose (black, brown, or green) and be sure that your sauna perfectly fits the surrounding color palette. This fairy wooden building with a colored conical roof and looking like a small dwarf house will surely decorate any landscape! The roof consists of 8 modules and a frame. Modules are equipped with a felt cover. In addition, one of the modules is pre-installed with the chimney. The only thing for a customer to do is to assemble modules and place the felt cover parts along joints.
Attention! Due to transportation reasons, the roof of the Vertical sauna is not installed even when an assembled model is ordered! Customers have to install roofs themselves! The delivery kit includes everything necessary for the assemblage except for instruments. It is easy to install a roof thanks to clear instructions delivered with the product.
Each barrel sauna can be equipped with windows, and its front glass door can be changed into a wooden door. Vertical sauna frame is made from either thermowood or spruce, shelves for a steam room are made from softwood, and they smell like a natural tree as well. SPA-procedures in a barrel sauna will be a peaceful moment you have dreaming for a long time.
See our kit options for your perfect Vertical sauna and accessories, and also feel free to contact our friendly customer service team to get any advice.
Shipping cost is not included.
The shipping cost depends on the total weight of your order and your destination.
For more information, you can visit our Delivery Page