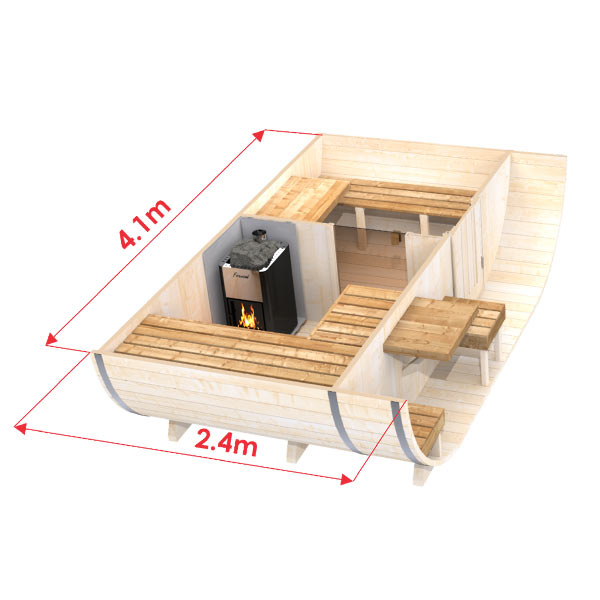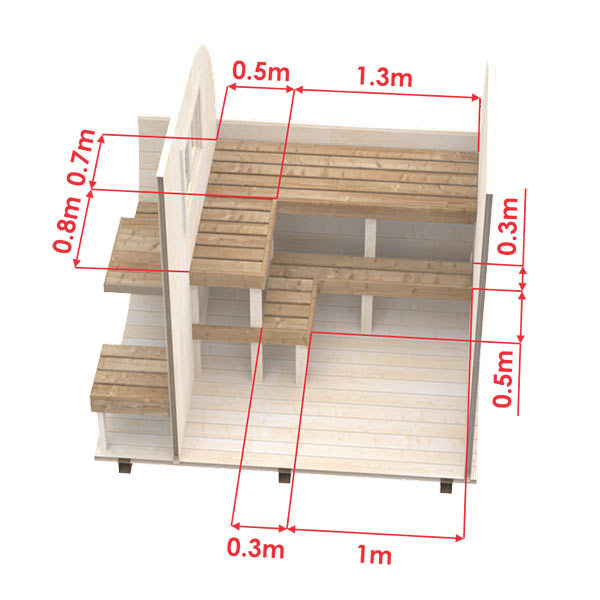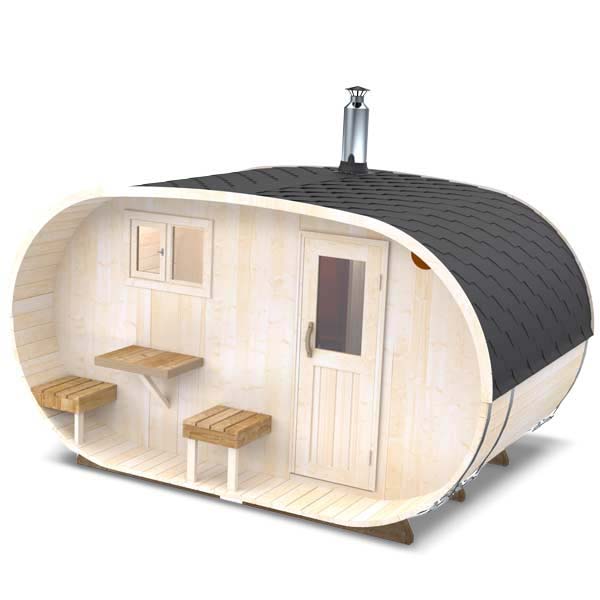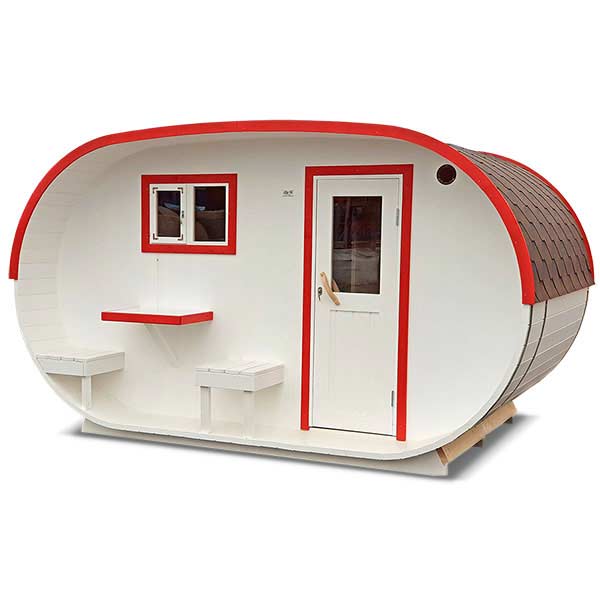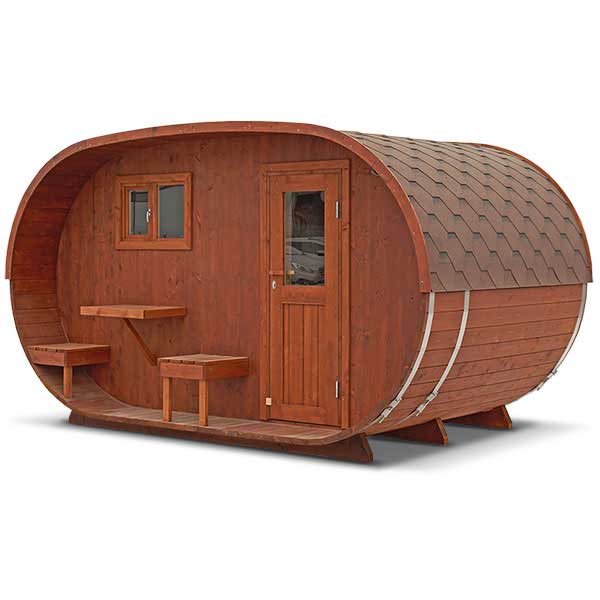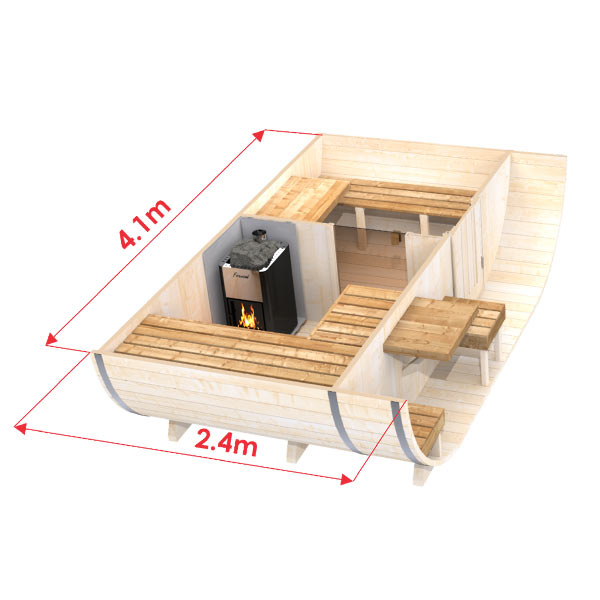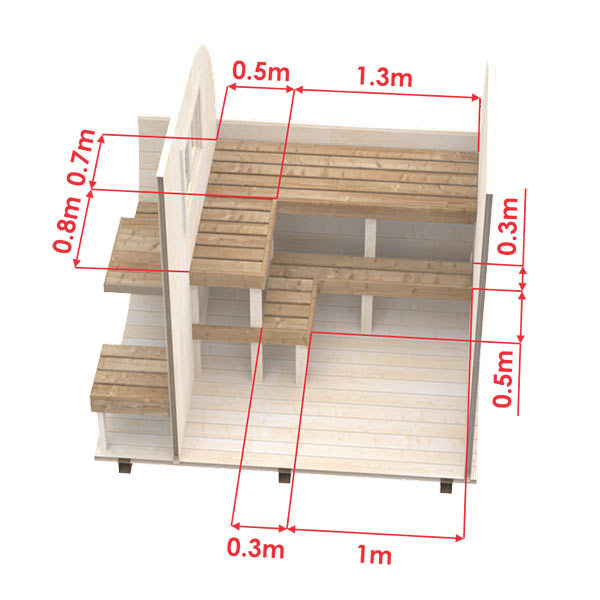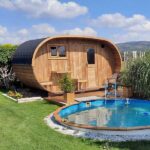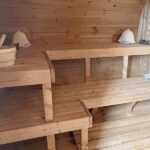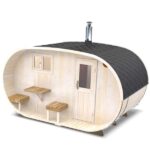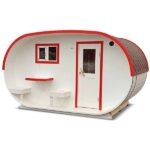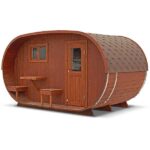 Oval Outdoor Sauna for 4 persons
Oval Sauna is a perfect combination of the designer's ideas, functionality, and rationality in all details. This model of Outdoor Sauna has a spacious steam room with two-level benches, which allows each person to choose the optimal temperature regime. Thanks to windows on the front side there is a lot of natural light inside the steam room. Also, the inner part of Oval Sauna has a big dressing room with a table and a bench, so you can change your clothes or just relax after visiting a steam room or in bad weather. Outside Outdoor Sauna there are cozy seats and a small table, so you can enjoy fresh air in between bath procedures. Such a sauna is ideal for families with children and those who prefer comfort. It is available only as non-assembled, with a wood-burning stove or an electric one, it is made from spruce or thermowood. Buying this Outdoor Sauna, you will get an ideal balance of price-quality-functionality and a perfect gift for the health of your family.
Basic Set Includes:
Spruce / Thermowood barrel
Benches from Thermowood
Inside Brown Tempered Glass Door
Outside Wooden Door with Glass Window and Lock
Bitumen Shingle Roof
Decorative Wooden Hoop (back and front)
Roof angle
Window
Sauna Stones (with stove only)
Stainless steel hoops – 3 psc.
Sauna can be purchased only unassembled
Package sizes: 2,4m x 1,2m х 2m (Length x Width x Height )
Accessories
Gallery
Parameters
Delivery
Description
Length: 4,1 m
Weight (kg) – 1332
Thickness – 40 mm
Capacity – 4 persons
Glass door size: 1890 mm x 707 mm for diameter 2,2
Wooden door size: 1890 mm x 707 mm for diameter 2,2
Package Sizes:
Length: 2,4 m
Width: 1,2 m
Height: 1,8 m for sauna with electric stove; 2 m for sauna with wood-fired stove
Feet arrangement for sauna:
Shipping cost is not included.
The shipping cost depends on the total weight of your order and your destination.
For more information, you can visit our Delivery Page
Description
Baltresto decided to diversify its product range with a new shape of sauna. From now on, we offer a new oval sauna for those, who appreciate absolute comfort and have spacious garden. Oval sauna consists of two rooms – steam room and dressing room. Change your clothes with comfort, keep some towels and all the other sauna things or just relax before and after entering the steam room.
Sauna can be purchased as a kit, together with an easy-to-follow assembly manual. Available sauna material is spruce or thermowood. Type of heater can also be chosen according to your taste – either electric or wood-burning. Sauna is equipped with a wooden door with a lock, so you do not have to worry about your sauna`s safety while you are away. Window in a steam-room gives you a perfect opportuinty to enjoy picturesque views around during the sauna session. In summer time, it is also possible to relax and enjoy some cold drinks or herbal tea sitting at the table on the sauna porch.