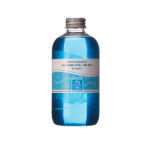 SpaСare Fragrance Eucalyptus for hot tubs, 250ml
SpaCare Fragrance Eucalyptus is used for hot tubs and hot tub liners. To take Your spa experience to a higher level try adding SpaCare Hot Tub Fragrance Eucalyptus to the water in your hot tub and you will get a refreshing scent of Eucalyptus to awaken all of your senses.
The product is 100% free of unnecessary chemicals or allergens.
Instructions for use: use 3 caps the SpaCare Fragrance Eucalyptus water scent per 150 – 200 l of water