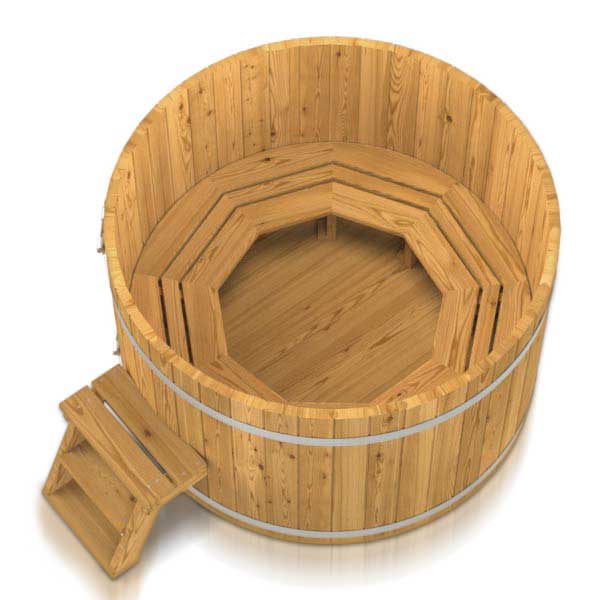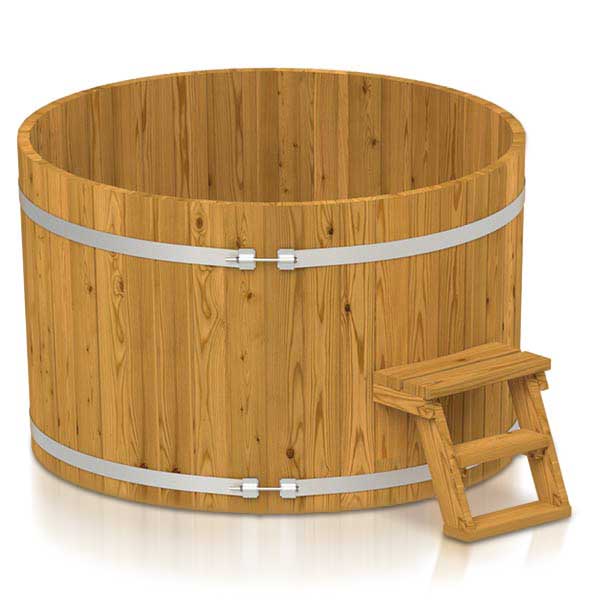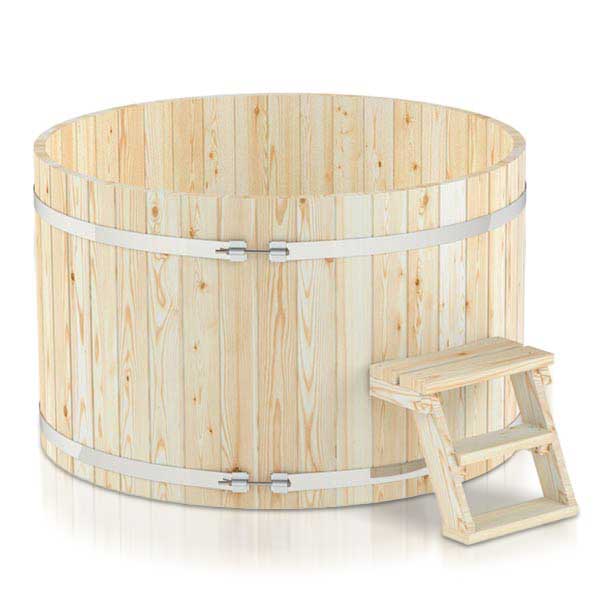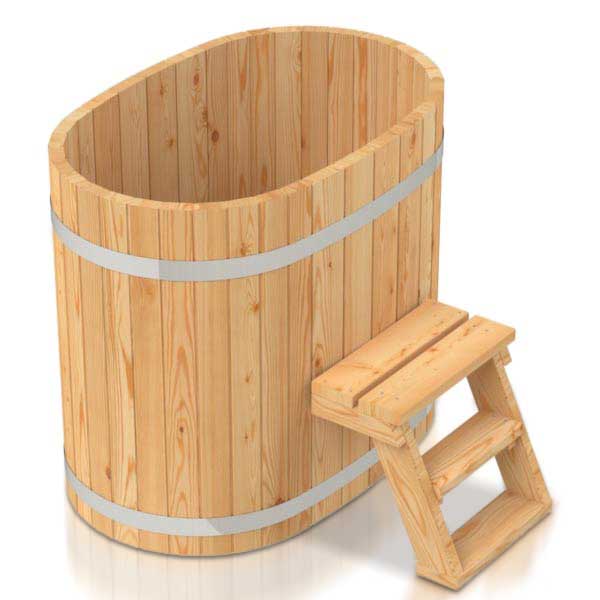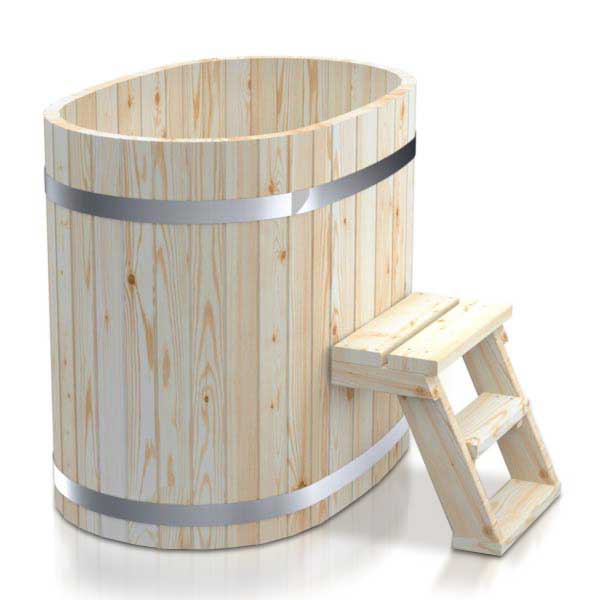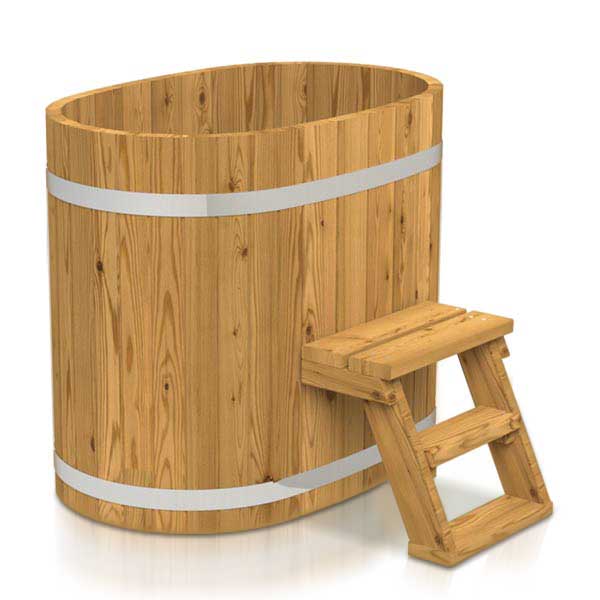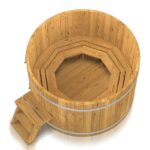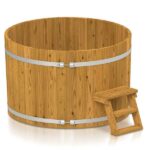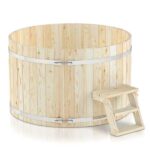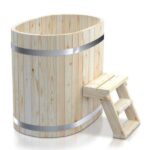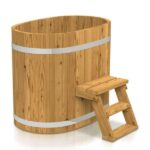 Wooden Hot Tub without Heater
We offer hot Wood Hot Tubs without Heater to those who would like to change their old Wood-fired Hot Tub to a new one or need Hot Tub without heating. You can choose one of three material types: spruce, larch, or thermowood.  The next step is to decide the size of your tub. Oval Wooden Hot Tubs are offered in two sizes, and there are five sizes for Wooden Hot Tub. Their capacities are quite various starting from private ones for 1-2 people and finishing with a big Wooden Hot Tub for a happy company of 11 people. 
Basic Set Includes:
Wooden Hot Tub with two Stainless Steel Hoops

Benches
Accessories
Parameters
Description
Delivery
Technical information
Size (m)
Ø1,6
Ø1,8
Ø2,0
Ø2,2
Ø2,4
1,3x0,85
1,6x1,0
Capacity (pers.)
4-6
7-8
8-10
9-11
10-12
2
2
Volume (l)
1300
1800
2300
2900
3600
600
900
Weight with stove
(kg)
200
250
300
350
410
150
180
Height: 1,12 m

Depth: 0,98 m

Height of seats: 320 mm

Width of seats: 350 mm

Thickness of seats: 41 mm

Wood outside thickness: 41 mm

Flooring thickness: 39 mm
Description
For those who would like to replace their old hot tub with a new one or need the barrel only for some other reason, we suggest hot tubs without stove. Please choose from three kinds of material—Spruce, Larch, or Thermowood. The next step—decide on size. Oval hot tubs are represented in two sizes, while the round ones—in five. The capaity is very different, starting from 1-2 people, and ending with the whole big company of 11 people.
Water temperature of 37°C is considered the most optimal and safe for a healthy adult. Soaking in water above 40°C may be dangerous for individuals suffering from some diseases. Hot tub hydrotherapy is usually safe and even useful for pregnant women. However it is still necessary to ask the advice of a health consultant, as each pregnancy is unique. If there are no contraindications, one can get into a hot tub, and enjoy the healing properties of a powerful mixture of water, heat, and air. Immersion in hot water improves blood circulation, relieves tension in joints and muscles, promoting relaxation, and naturally boosts your mood.
Benefits of soaking in a wooden hot tub are numerous. Relaxing evening soaking in your hot tub will definitely help you fall asleep faster and significantly improve your sleep quality. Regular use of hot tubs may also help to reduce weight and diminish the appearance of cellulite. Soaking in hot tubs is an excellent way to eliminate lower back pains. What is more, sportsmen will certainly benefit from soaking both before and after trainings. Pre-training soaking will relax muscles and thereby minimise risk of injuries. Post-training soaking will help to avoid muscle stiffness. Besides effects aimed at improvement of separate particular conditions, soaking will improve your overall well-being and bring perfect mood.
Shipping cost is not included.
The shipping cost depends on the total weight of your order and your destination.
For more information, you can visit our Delivery Page