What is a Wooden Hot Tub? What are its Advantages and Disadvantages?
Iana
A simple dip in the hot water initiates a chain of events that emphasize the way our health and well-being depend on the water. So, your blood circulation increases, your blood pressure rises slightly, and blood starts to flow towards the heated skin. In other words, the blood vessels expand, and the differential pressure symptoms recede. The warm blood penetrates deeper into the skin tissue, bringing more oxygen. Therefore, You get a soothing sensation. Your muscles start to relax, and your body is clearing the carbon dioxide from your muscles. Your immune system increases antibody production by producing endorphins – a natural painkiller. It soothes your pains and drives away many problems. A Wooden Hot Tub is one of the options that are used to get healthy water treatments. Today, we take a look at what a Wooden Hot Tub is and what functions it can perform. Also, we note its advantages and disadvantages. 
What is a Wooden Hot Tub?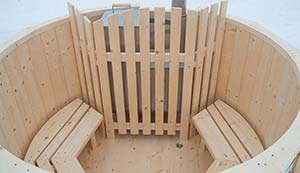 Wooden Hot Tub is nothing but kind of barrels of different sizes and configurations. Modern production adapts to the most demanding customer and offers goods for every taste and budget. You can buy a large wood-fired hot tub, or a wooden hot tub with Lighting or with Airmassage, etc.  Or simply, you can get a plain wooden barrel with a ladder. An adequately built wood-fired hot tub can keep water warm to the desired temperature. If you want to relax and unwind, the wooden hot tubs have benches installed inside them to give you a comfortable time.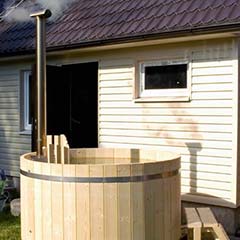 Depending on the place of installation, you can select a circular wooden hot tub or an oval-shaped one. Moreover,when installing the wooden hot tub outside, it is recommended to treat it with special compounds beforehand to protect the wood from ultraviolet (sunlight) and other weather conditions.
You can select the size of Wooden Hot Tub according to how many people you're planning on to be with in your tub at a time. Consequently, there are Wooden Hot Tubs for 1-2 persons, 3-4 persons , 5-8 persons.Therefore,
What kind of wood do you prefer?
Health benefits of the Wooden Hot Tub  are determined by the tree species from which it is made of. For these reasons, using a spruce wood, thermo wood, cedar, larch or oak are recommended. Each tree has its own good effects on the human body. And this is quite difficult to highlight something as better or worse over the others. Briefly, we can say the following:
Spruce is one of the traditional types of wood for saunas and hot tubes. Along with unique physical parameters, it has a lot of medicinal properties too. With the spruce hot tub, you combine comfort and health together! It improves metabolism, cleanses the body, restores energy, and improves the mood.
Thermo wood is also famous for its eco-friendliness, high wear resistance, and durability. The Thermo wood hot tub is free from all kind of rottings or molds forming on it. The greatest advantage of Thermo wood is its ability to retain from any deformation due to temperature changes and moistures. The Spruce hot tub is durable, a little resinous, and due to less drying out, consistently maintains shape and size.
Larch will improve your mood and raise the overall tone of your body. Asthmatics will also be very happy with water treatments in a Larch Hot Tub because it significantly improves the condition of their respiratory system. This contributes to the normalization of pressure and overall relaxation of the body.
Cedar Hot Tub is capable of "renewing" the body. It has a significant effect on the cardiovascular system and can perfectly calm the nerves. Essential oils, which are contained in large quantities in Cedar, have good impacts on the lungs and are natural aphrodisiacs.
Oak Hot Tub is useful for the skin. Women will be happy about it especially because, after the warm water treatment, the skin becomes soft and velvety. If you "take a bath" regularly in an Oak tub, the oak enzymes will improve sleep cycle, relieve anxiety, and lead to normal metabolism in the body . In conclusion, we note
The advantages and disadvantages of a wooden hot tub: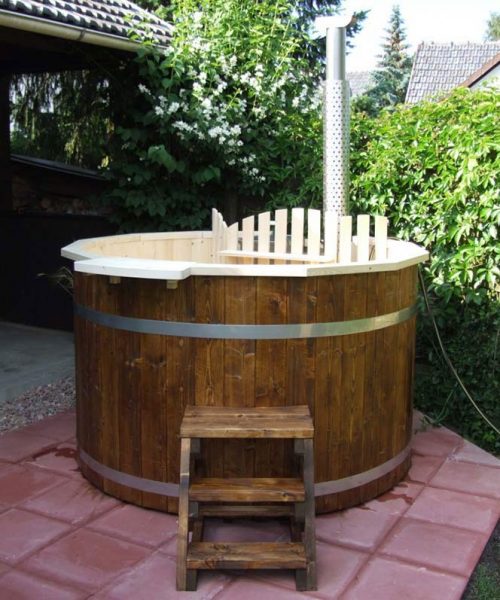 Advantages:
the water infused in a wooden hot tub has healing properties;
the hot tub fits perfectly into the landscape of a country house or cottage;
eco-friendliness and the pleasant aroma of wood during the water treatment;
reasonably priced in comparison to the hot tubs with similar functionalities;
assembled or non-assembled designs (by the customer request).
Disadvantages:
it requires more and delicate care;
it tends to rot easily;
to avoid drying-out of the wood, you should leave some water at the bottom of the tank and cover it with a lid.