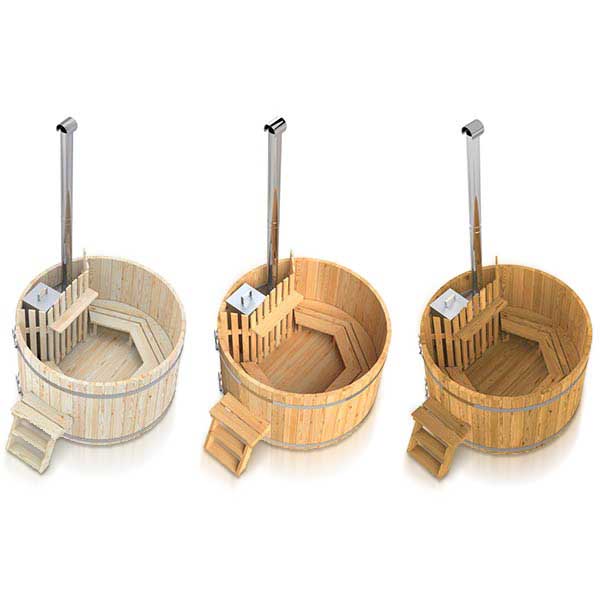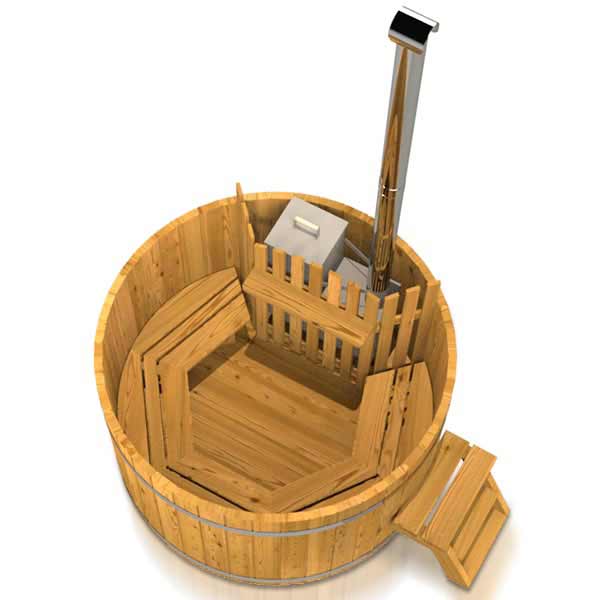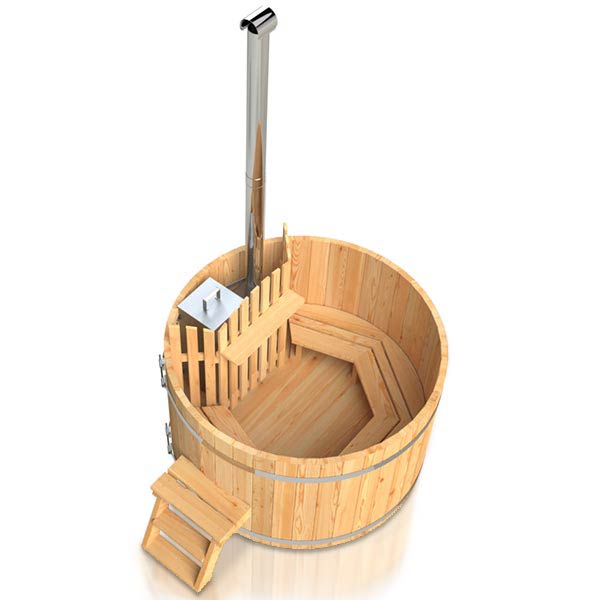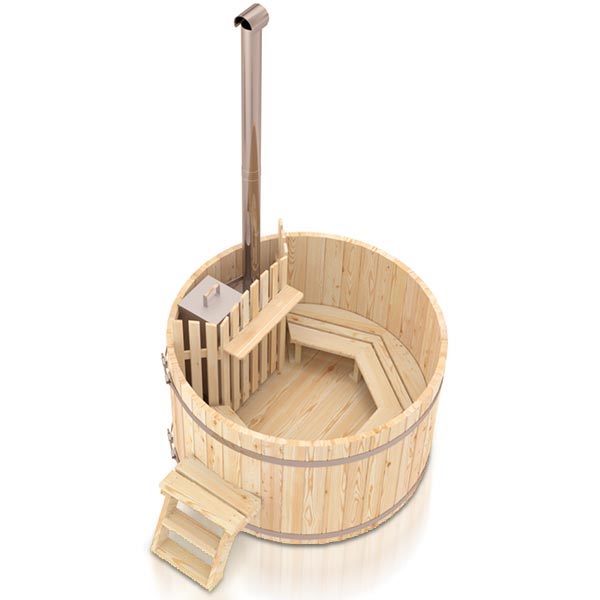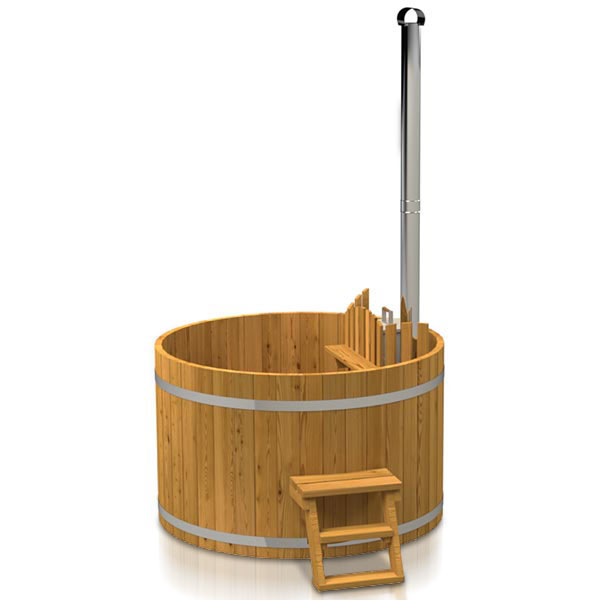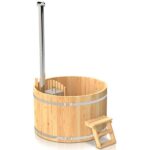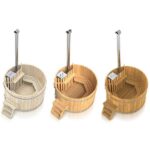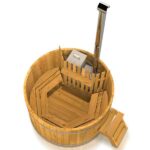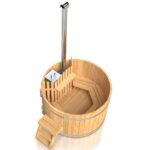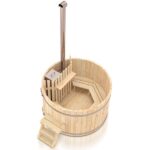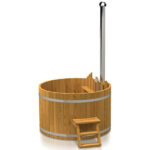 For 3-10 persons Wooden Hot Tub with an Inside Heater
Wood-fired Hot Tub with an Inside Heater is a classic and traditional model made from natural wood. It is nearly one meter in-depth and has a comfortable bench for sitting. The bench exactly fits the shape of Wooden Hot Tub, so it is safe and there aren't any gaps between the wall profile and seats. You can choose any of five different Wooden Hot Tub sizes depending on the number of people. Each wooden tub is handmade and complemented with a woodfired heater having a top wood charge system. The inside heater is separated from the bathing area by the wooden barrier protecting both the heater and people. The biggest Wooden Hot Tub with an Inside Heater can accommodate up to 10 people!
Basic Set Includes:
Hot Tub with two Stainless Steel Hoops

Benches

Drain
Accessories
Parameters
Description
Delivery
| Technical information | | | | | |
| --- | --- | --- | --- | --- | --- |
| Size (m) | Ø1,6 | Ø1,8 | Ø2,0 | Ø2,2 | Ø2,4 |
| Capacity (pers.) | 3-4 | 5-6 | 6-8 | 7-9 | 8-10 |
| Volume (l) | 1300 | 1800 | 2300 | 2900 | 3600 |
| Weight (kg) | 190 | 240 | 290 | 340 | 400 |
Height: 1,12 m

Depth: 0,98 m

Height of seats: 320 mm

Width of seats: 350 mm

Thickness of seats: 41 mm

Wood outside thickness: 41 mm

Flooring thickness: 39 mm
Description
When you buy classic Wooden Hot Tub with an Inside Heater, you choose one of the most popular models!
Wooden Hot Tub with an Inside Heater is structurally divided into two parts. Its smaller part with a Heater is protected with the barrier, its bigger part is for bathing. Inside Heater heats water in Wood-fired Hot Tub at the rate of 5° per hour It should be noted that the rate of increasing the temperature depends on several factors: Wooden Hot Tub diameter, water amount, presence/absence of a cover, outside temperature, and, of course, the wood type.
Baltresto employs highly efficient Inside Heaters of our own production.  Depending on your preferences there are two options:
24 kW Inside Heater made from marine aluminum
27 kW Inside Heater made from stainless steel
The standard kit includes a chimney with rain covers and a protective barrier. Thus, the package is safe, and the tub with a heater is ready for use just after their delivery. Both Inside Heater options have shown a very good heat transfer capability and excellent corrosion resistance. To make an appropriate choice you have to decide what kind of water you are going to use: fresh or salty. If you are going to use salty (sea) water, we recommend employing a Heater made from marine aluminum.
Wood is the most common building material for Wood-fired Hot Tubs due to its natural and authentic look.
Quality Wooden Hot Tub can be made only from wood that have the following properties: resistance to the rotting, low tendency to deforming and cracking as well as a low quantity of snubs.
Online shop Baltresto offers for sale Wood-fired Hot Tubs made from the following materials:
Spruce. It is an optimal combination of price and quality. To prolong the service term of the outdoor Hot tub made from spruce we recommend treating with antiseptic preparations.
Larch. It's the most common material to produce Wooden Hot Tubs.  Thanks to their high resin content, these products have a much longer service life than those made from other types of raw wood.
Thermowood treated at high temperatures. As a result, the material becomes more durable, eco-friendly, and resin-free. You can read more about thermowood properties  here >>
However, you have to remember that wood keeps moisture very well. Therefore, Wooden Hot Tub requires much care and attention. For example, Wooden Hot Tub shrinks when it is not used for a long time and has no water at the bottom, water can flow out of cracks in wooden constructions when it is filled with water. Although wood restores and slowly swells to its original size when filled with water. Wooden Hot Tub has outside Stainless Steel Hoops that allow adjusting the board compactness. If Hot Tub leaks even when it is wet, Stainless Steel Hoops should be tightened.  In rainy seasons we recommend loosening Stainless Steel Hoops.
Attention! When Wooden Hot Tub is filled with water for the first few times, it can leak. It is quite normal, this process is natural for this product.
You should read the operation instructions very carefully! The warranty is valid provided that the Wooden Hot Tub has been regularly treated, maintained, and used in accordance with the instructions!
Shipping cost is not included.
The shipping cost depends on the total weight of your order and your destination.
For more information, you can visit our Delivery Page