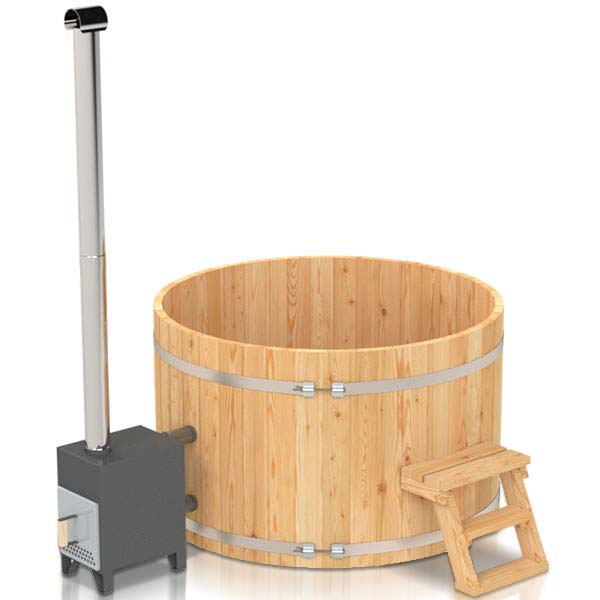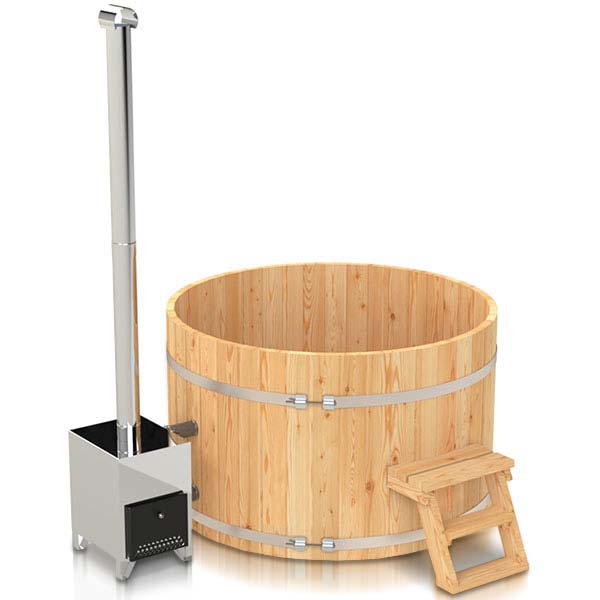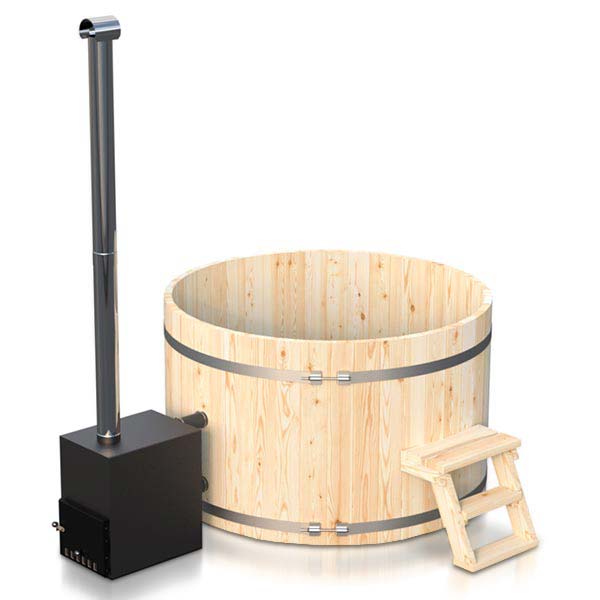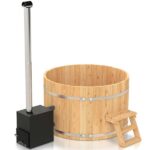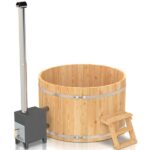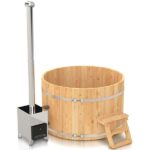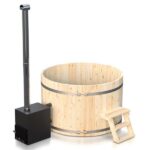 For 4-12 persons Wooden Hot Tub with an Outside Heater
Wooden Hot Tub with an outside stove is a traditional and eco-friendly type of Outdoor Hot Tub. They are handmade from carefully selected natural materials in our factory. Efficient Outside Stove heats water in Wooden Hot Tub quickly and uniformly. Outside Stove is very convenient to maintain and clean from ash, also it does not take up any space inside Hot tub, so you can choose the desired diameter for your Wooden Hot Tub considering only the number of people! The smallest Wooden Hot Tub with an outside stove is 1,6 m in diameter and can accommodate up to 6 people. The biggest Wooden Tub in our assortment is two meters in diameter and can accommodate a small sports team: up to 12 people in total!
Basic Set Includes:
Wooden Hot Tub with two Stainless Steel Hoops

Benches

Drain
Accessories
Parameters
Description
Delivery
| Technical information | | | | | |
| --- | --- | --- | --- | --- | --- |
| Size (m) | Ø1,6 | Ø1,8 | Ø2,0 | Ø2,2 | Ø2,4 |
| Capacity (pers.) | 4-6 | 7-8 | 8-10 | 9-11 | 10-12 |
| Volume (l) | 1400 | 1900 | 2400 | 3000 | 3700 |
| Weight (kg) | 200 | 250 | 300 | 350 | 410 |
Height: 1,12 m

Depth: 0,98 m

Height of seats: 320 mm

Width of seats: 350 mm

Thickness of seats: 41 mm

Wood outside thickness: 41 mm

Flooring thickness: 39 mm
Description
When you buy a Wooden Hot Tub with an outside stove, you get a lot of pleasure and improve your health!
Soaking in a wood-fired Hot Tub with an outside stove will bring plenty of positive emotions and involve improve your physical and psychological health. During the manufacturing process of the Wooden Hot Tub, we do not use any glue, sealants, plastic liners, or any other chemical factory products. There is only natural certified wood that is safe for people's health and the environment!
You can buy Outdoor Hot Tubs made from spruce, thermowood, or larch in Baltresto online-shop:
The most budget-friendly Wooden Hot Tubs are made from spruce. This material is characterized by such properties as its low resin content in wood, good resistance to precipitation, and low shrinkage. Wooden Hot Tubs made from larch are chosen by practical people.
Larch wood is inherently strong due to its natural resistance to moisture and bacterial damage. For example, most of the piles supporting Venice houses are made of larch.
Outdoor Hot Tub made from thermowood is the most popular option among our customers. This type of wood is much more resistant to decay or mold if compared with raw wood. You can read more about thermowood properties here >>
Wood is a natural material that absorbs moisture well, which means it requires extra care compared to fiberglass Hot Tub. Be very careful when reading operation instructions! The warranty is valid provided that the Wooden Hot Tub has been regularly treated, maintained, and used in accordance with the instructions! When Wooden Hot Tub is filled with water for the first few times, it can leak. It is quite normal, this process is absolutely natural for this product. Wooden Hot Tub is provided with stainless steel tightening hoops so that to be conveniently maintained in different seasons: for example, they should be loosened during rainy seasons and tightened during warm periods. You can complement the standard kit with popular accessories such as Bubble System, Led-lights, a shelf for beverages, Hot Tub Cover, and different types of filters.
If you have any questions left, don't hesitate and contact our friendly customers' service! Our managers will be glad to help you with choosing and creating an ideal Wooden Hot Tub!
Shipping cost is not included.
The shipping cost depends on the total weight of your order and your destination.
For more information, you can visit our Delivery Page