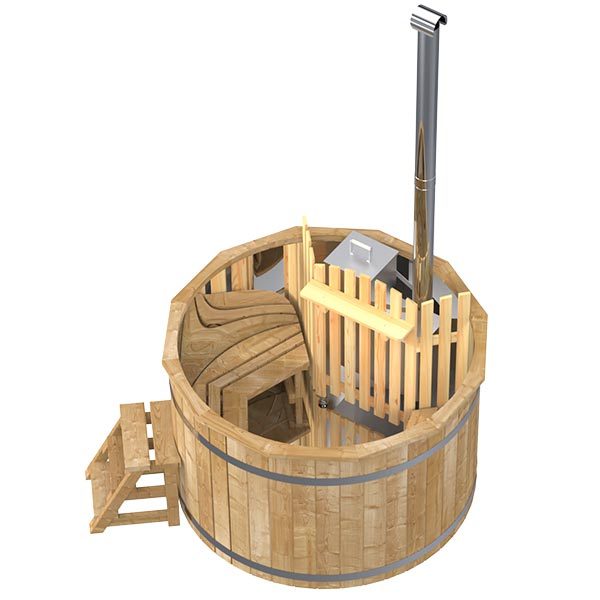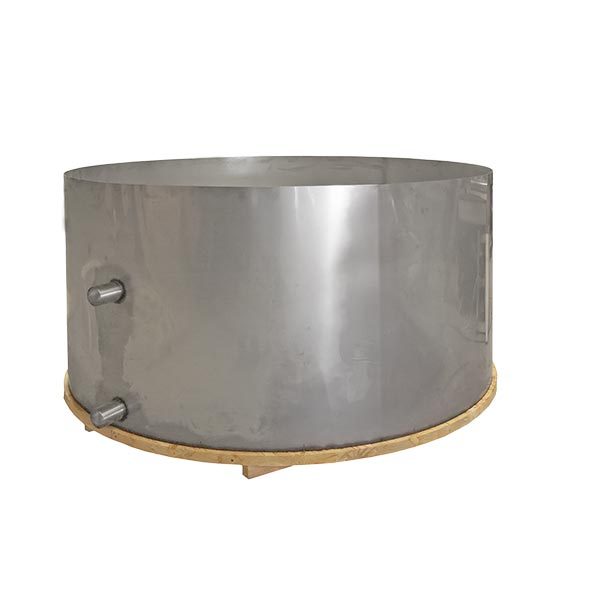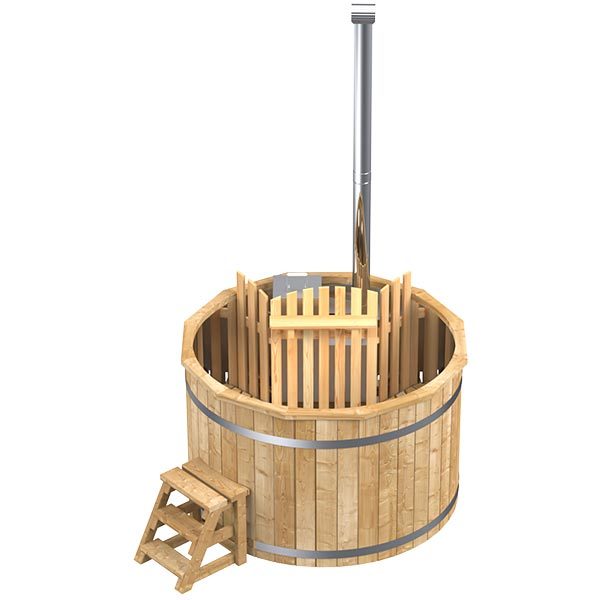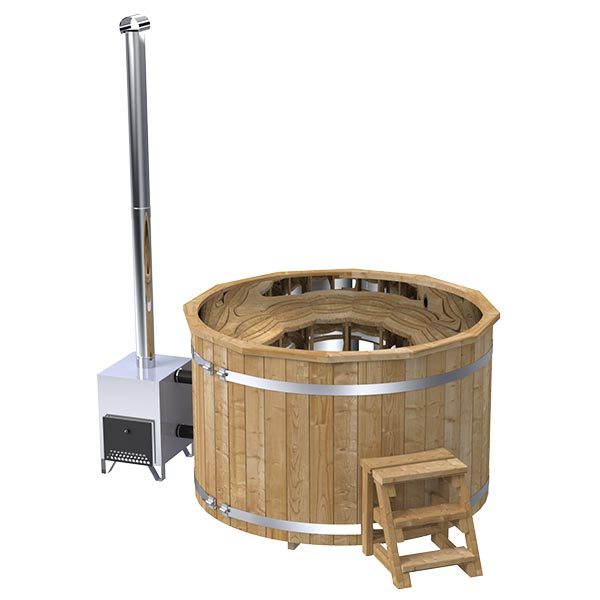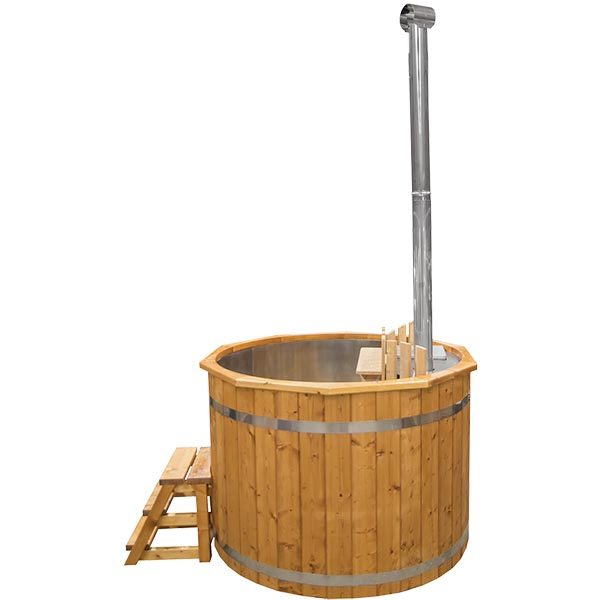 Stainless Steel Wooden Hot Tub with a Wood-Fired Heater
1 978 € – 2 638 €
Shipping cost is not included.
Basic Set Includes:
Hot Tub can be purchased only assembled
Stainless Steel Insert
Wooden Hot Tub with Two Stainless Steel Hoops, Benches, and Stove Fence (for model with an inside heater)
Sides planked by Thermowood
Stainless Steel Stove with Chimney (inside or outside)
Steps (0,5m)
Drain
Accessories
Parameters
Description
Delivery
Gallery
JETS AND LIGHTS
FILTERS AND HEATERS
OTHER
Parameters:
Diameter—1.6 m
Diameter—1.8 m
Diameter—2.0 m
Ø1,6: Volume —1300 l, Capacity – 3-4 persons
Ø1,8: Volume —1800 l, Capacity – 5-6 persons
Ø2,0: Volume —2300 l, Capacity – 6-8 persons
Ø1,6: Weight (kg) – 270
Ø1,8: Weight (kg) – 330
Ø2,0: Weight (kg) – 390
Height — 1,12 m
Depth — 0.98 m
Stainless steel bath thickness – 1 mm
Wood outside thickness — 41 mm
Flooring thickness — 39 mm
Height of seats — 320 mm
Width of seats – 350 mm
Thickness of seats – 41 mm
Description
The most prestigious and luxurious hot tubs are traditionally made of wood. In case you are looking for the hot tub that will not only look fabulous but also endure negative impact of various weather conditions, you should definitely choose the hot tub from thermally modified wood! Such wood is better protected from shrinkage and leakage, has better heat-insulating and hygienic qualities, never gets damaged by fungus and mould, it will never start rotting, become black or bad-looking. In addition to the abovementioned advantages, thermowood is also lighter in weight; it does not release resin, and has more vivid and even colour along with pronounced texture. Finally, this type of wood is absolutely non-toxic and eco-friendly!
Bath made of stainless steel is inserted into the thermowood barrel, which provides additional gloss to the tub and makes it really unique! The warm shade of stainless steel used for the production of our hot tubs perfectly harmonizes with the natural wood colour. Due to its high mechanical durability and plasticity stainless steel is perfect for construction of baths. These characteristics allow producing baths with thinner walls, making the whole construction much lighter. Temperature and pressure fluctuations do not affect stainless steel as well. Despite constant contact with water, this material resists corrosion and retains its original view. In case any scratch appears on the surface, it can be easily polished in order to make it disappear without a trace. The material is especially durable and practically every-lasting! The bath is much easier to clean, for example, in comparison to baths made solely of wood or plastic. What is more, stainless steel is resistant to chemicals used for washing pools and tubs. Stainless steel is highly hygienic; its surface does not have any interstice or cracks, meaning no favourable conditions to fungus or mould growth.
Shipping cost is not included.
The shipping cost depends on the total weight of your order and your destination.
For more information, you can visit our Delivery Page