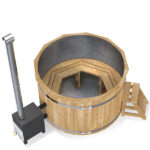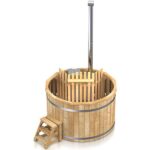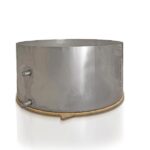 Stainless Steel Wooden Hot Tub with a Wood-Fired Heater
This long-lasting Wood-fired Hot Tub with thermowood covering contains an amazing secret: its internal Hot tub liner is made of Stainless Steel! This will make it easier to maintain the product, there will be no need to check the wood swelling and adjust hoops as in classic Wooden Hot Tubs! Hot tub liner from Stainless Steel protects it from leaks, is hygienic and easy to clean. The outside body is produced from thermowood. This material is better protected against shrinkage and leaks than raw wood, it is less damaged by fungi and mold, has better thermal and hygienic qualities, has a brighter and smoother color with a pronounced texture.
Basic Set Includes:
Stainless Steel Insert

Wooden Hot Tub with Two Stainless Steel Hoops

Benches and Stove Fence (for model with an inside heater)

Sides planked by Thermowood

Drain
Hot Tub can be purchased only assembled
Accessories
Parameters
Description
Delivery
| Technical information | | | |
| --- | --- | --- | --- |
| Size (m) | Ø1,6 | Ø1,8 | Ø2,0 |
| Capacity (pers.) | 3-4 | 5-6 | 6-8 |
| Volume (l) | 1300 | 1800 | 2300 |
| Weight (kg) | 270 | 330 | 390 |
Height: 1,12 m

Depth: 0,98 m

Height of seats: 320 mm

Width of seats: 350 mm

Thickness of seats: 41 mm

Wood outside thickness: 41 mm

Flooring thickness: 39 mm
Description
Stainless Steel Wooden Hot Tub is a unique Wood-fired Hot Tub by its design!
The warm shade of Stainless Steel used to make this Wooden Hot Tub model is in perfect harmony with the natural color of the wood. Stainless steel has high mechanical strength and plasticity, so Wood-fired Hot Tub construction is made with thinner walls, which reduces its weight and allows you to move it around your backyard easily. Pressure and temperature fluctuations which depend on the time of year don't influence stainless steel either.  Despite its constant contact with water, this material is resistant to corrosion and retains its original look. If a scratch appears on the surface, it can be easily polished to make it disappear without any traces. This material is exclusively strong and long-lasting! Stainless Steel Hot Tub is much easier to clean than conventional Wooden Hot Tubs: stainless steel is resistant to chemicals used in most cleaning solutions, and it is also unaffected by sea salt and various aromatics.
Stainless steel is very hygienic; there are no gaps or cracks on its surface, which means there are no favorable conditions for the growth of fungi or mold.
You can choose the size of your Wooden Hot Tub from stainless steel, depending on the number of people.
Stainless Steel Wooden Hot Tub is available in three different sizes, the biggest one can accommodate up to 8 people. Also, you can choose a heater type. Traditional Inside Heater takes up to 30% of your Wooden Hot Tub volume and is protected by a wooden protective barrier that prevents swimmers from getting burnt. An outside Heater is more convenient to maintain because it excludes the possibility of ash from the Heater getting into the water. The outside body and benches are made from strong thermowood, which ensures their perfect durability. You can read more about thermowood properties  here >>
Welcome to Baltresto online shop! Choose Stainless Steel Wooden Hot Tub, and you will never regret that!
Shipping cost is not included.
The shipping cost depends on the total weight of your order and your destination.
For more information, you can visit our Delivery Page