How to use wood-fired Hot Tub safely in Winter?
Iana
Usage of a wood-fired Hot Tub in winter has become really popular, and our customers often ask how to use wood-fired Hot Tubs at the sub-zero air temperature properly.
Tip 1. Pour out water after using a tub.
Actually, ice formation can lead to serious defects of your wooden Hot tub. The expansion of water volume when freezing (5% and more) results in irreversible deformation of a wooden Hot Tub: cracks, non-uniform dimension and shape changes of a wooden Hot Tub. It is a common fact that humidity is higher in winter than in summer, which allows keeping timber wet even without water inside your Hot Tub.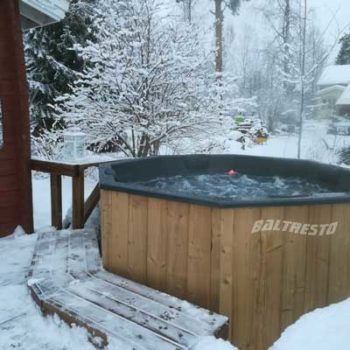 On the contrary, Fiberglass Hot Tub can be easily adapted to sub-zero temperatures (up to – 20 С). But the main rule is the same, namely, after using a wood-fired Hot Tub in winter you have to pour out water immediately. Also, after using a Glassfiber Hot tub in winter, it is necessary to allow the jacuzzi system to run unloaded for a while for pipes to get rid of water completely.
Drain valves should be left open during winter; if a model is equipped with a rubber plug, it should be removed completely. If necessary, remove any residual water from the heater as well. Do not forget that water splashed around the wood-fired Hot Tub will freeze, and there is a danger of slipping.
Tip 2. Use an insulated cover.
The insulated cover is also known as cover for Hot Tub or Lazy spa winter cover. It is the most popular accessory for a wood-fired Hot tub:
Lazy spa winter cover protects wood-fired Hot Tub from getting dirty, including falling leaves or snow;
It is easy to keep clean, take off and put on. It does not deform with time unlike a wooden one;
It protects Glassfiber from discoloring and possible color fading;
Lazy spa winter cover means security, which is of great importance for families with children.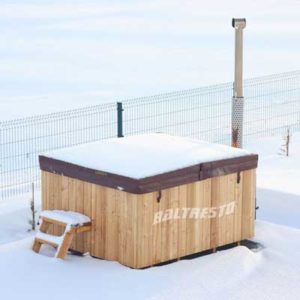 Before winter comes, we advise you to check thoroughly the cover of your wood-fired Hot Tub and see that it is ideal. If not, fix it or replace it.
Tip 3. Don't economize on the heat insulation of your wood-fired Hot Tub.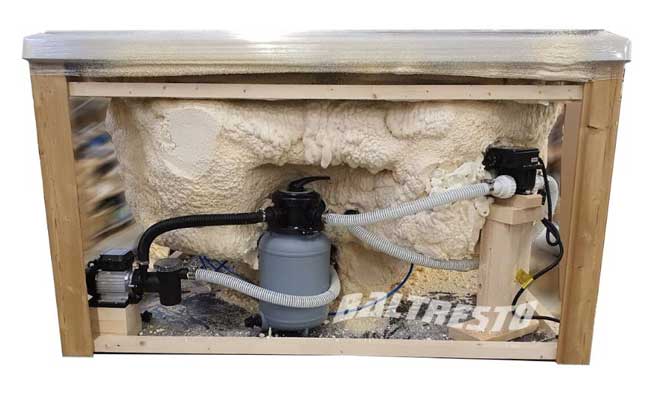 Polyurethane heat insulation of a wood-fired Hot Tub is undoubtedly useful for those who often bathe in winter. Low polyurethane thermal conductivity makes it possible to keep water in a wood-fired Hot Tub warm in winter and creates a reliable barrier against cold air. What is especially important, polyurethane belongs to fire-resistant materials, as it contains one of the fire retardants making it self-extinguish even if the material gets inside fire zone
Polyurethane heat insulation is performed by coating a tub with a heat insulation layer. When contacting the surface of a wood-fired Hot Tub, polyurethane foam increases in volume and expands its size greatly. When expanding, polyurethane penetrates all even tiny cracks and creates hard and practically hermetic coating. Thus, polyurethane heat insulation of a wood-fired Hot Tub helps reduce service costs and increases its energy efficiency.
Tip 4. Use flange plugs.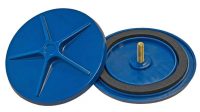 Heater flange plugs are necessary to conserve a wood-fired Hot Tub in winter or, for example, in case you leave water in a wood-fired Hot Tub at night. These plugs are designated to shut down the water loop through which water is circulating to a heater and back into a wood-fired Hot Tub. Flange plugs are long-lasting and help significantly reduce the environmental heat exchange, with the basic cost of the product itself being quite reasonable.
Tip 5. Control water temperature.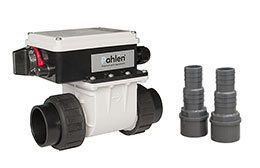 Electric heater 2kW is a compact heater equipped with a build-in thermostatic element; it serves to maintain constant water temperature in a wood-fired Hot Tub.  It means that Electric heater 2kW heats water up to the given temperature and automatically turns off. If the temperature decreases, the heater starts again. Electric heater 2kW is installed outside a wood-fired Hot Tub and has compact dimensions. So, if you need to keep water warm in winter, Electric heater 2kW can function as a common wood-fired heater, but it is easier and more comfortable in usage. To optimize service expenses, we advise you to heat water first using a wood-fired heater.
Thus, you can enjoy using wood-fired Hot Tub in winter, if you prepare it properly. Pamper yourself with magic evenings spent in a warm wood-fired Hot, enjoying winter landscapes and falling snow!